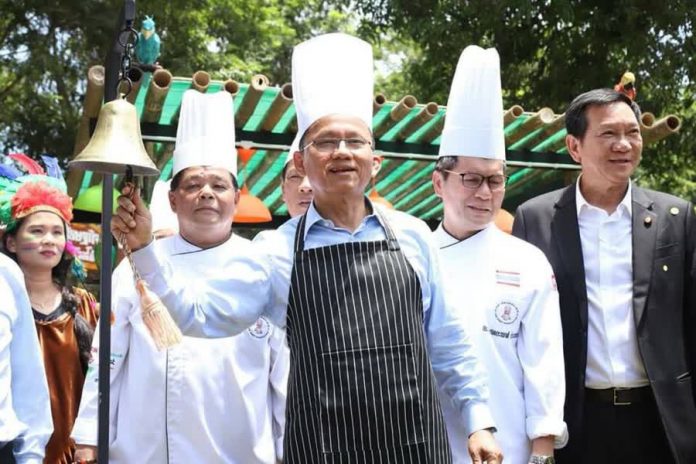 RAYONG – The Thailand Justice Minister, Somsak Thepsuthin, has launched a domestic tourism project which is aimed at giving prison inmates the opportunity to return to society by having community events and tournaments that both encourage personal development and draw domestic tourism to prisons.
Mr. Somsak visited Khao Mai Kaeo Temporary Prison and Hueypong Open Institution in Rayong province to launch the project under the prison tourism policy. He also observed a cooking tournament between two prisons. The Chefs' Association of Thailand organized the event and provided culinary knowledge and food presentation techniques in accordance with international standards to the inmates.
The tourism project is aimed at making prisons and related institutions a tourist destination, especially for domestic tourism or those curious to see a Thai prison. It is in response to Mr. Somsak's policy of optimizing the resources of prisons and institutions, while equipping inmates with vocational skills, so that they have the confidence needed to integrate back into society.
Participating inmates have the opportunity to learn foreign languages and household accounting. The project also promotes tourism in Rayong, as its prisons and institutions have a peaceful environment. Families can bring their children to engage in learning and sightseeing activities.
The program is aimed at helping build a more positive image of Thai prisons and showcase skills that many prisoners have. Besides the cooking shows, other planned ideas include prisoners putting on sports events like public Muay Thai tournaments, cabaret style events, prisoner art shows and engaging in a variety of skill based seminars.
In return, Thailand hopes to show tourists how they are changing focus, according to them, to focus on rehabilitation and making prisoners a constructive member of society upon their release date.
In the Pattaya area, where The Pattaya News is based, an ongoing book drive has been taking place at the Pattaya Remand Prison. Recently over 3,500 books were donated to the prison as the prison builds an extensive library and focuses on teaching prisoners reading skills. The books are primarily instructive, such as language and personal development.
Source: Thai National News Bureau with additional material from the Pattaya News