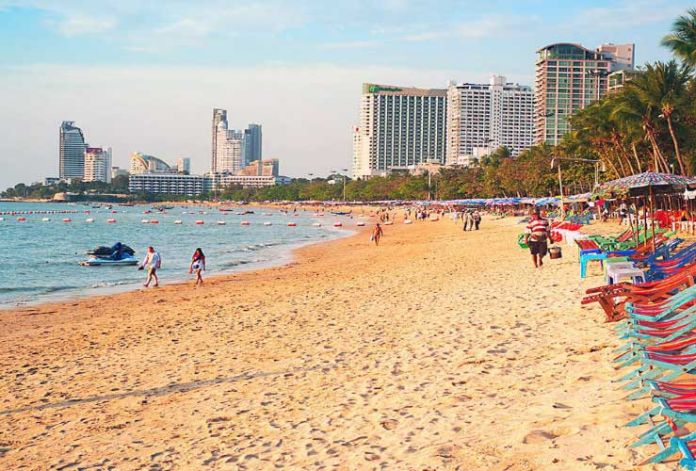 Pattaya-
Pattaya has said several times in the past months since all restrictive Covid-19 related lock-down measures ended that they want to drive domestic tourism to the city in the absence of the roughly ten million a year foreign tourists and the estimated tens of thousands of Thai people who work and live in the city during "normal" times.
However, to do so, Pattaya is going to have to take many further actions note Facebook groups for Thai nationals like Pattaya Watchdog and Pattaya Talk.
The following is a list of suggestions to drive domestic tourists to Pattaya Beach in particular, collected from comments on both Facebook groups as well as our own Thai social media accounts. The Pattaya News also runs a Thai version of our news found here with over 380,000 followers.
-Legalize, at least temporarily, street parking for Pattaya Beach. The city used to have a parking lot near the beach and North Pattaya but it was shut and fenced long ago. Jomtien Beach allows street parking and thus many more people will visit there. Reducing the lanes to allow parking would not make traffic difficult as there is much less in Pattaya.
-In regards to the above suggestion, possibly set up an agreement with some of the still empty hotels on Pattaya Beach to allow free parking.
-More Shady areas and trees to sit under on the beach proper. Jomtien has many areas like this and they tend to be the most popular sections of the beach. (This is part of an already announced project to add more flora to the area.)
-Allow selling of alcohol from beach vendors like before Covid-19 and allow people to drink alcohol on the beach. Pattaya beach is reportedly still heavily enforcing the no alcohol rule so Thai's are going to beaches such as Jomtien with more "relaxed" rules.
-Allow food vendors to sell on the sidewalks, temporarily. This will be very popular with Thai nationals and will drive them to the beach as well as make the area more lively. Jomtien Beach has many food carts and vendors but they are still constantly chased away from Pattaya Beach.
-Stop chasing away vendors. They are mostly allowed on Jomtien and other beaches but constantly chased away on Pattaya Beach. Allow lottery ticket sellers on the beach.
-Fix all the broken benches and seating areas. Add more seating areas across the beach as Thai's like to sit and relax.
-The Pattaya City Free wi-fi rarely works. Upgrade it and highlight it. Quality free wi-fi up and down the beach will please many Thai nationals.
-Allegedly, there are many individuals involved in selling illegal items such as drugs in the area. Step up policing and get them off the beach.
-Provide better support and help for the homeless in the area.
-The beach is much cleaner in terms of the sand and regularly cleaned, however, there are still great concerns over the water. Public and regular transparent testing through a third party source, not the local government. Many Thai's don't swim anyways, but it would be a nice touch.
-Fix the sidewalks that were heavily damaged during the recent drainage work. (Already on the agenda, same as more flora.)
-Set up a sports area with volleyball courts and other beach activities. (This may be included with the sidewalk and more trees plan.)
-Set up an exercise area and encourage more regular zoomba and yoga classes. (Has already been proposed officially and may be part of the remodel, along with sidewalks and trees.)
-Stop kicking off street performers and musicians. They are allowed on other areas. Encourage street performers to perform on the sidewalk/boardwalk area.
-Use the rarely used speakers on Pattaya Beach to pipe in Thai music during busy times on weekends
-Advertise the beach in Thai and focus on the positive changes vs. how empty the area is.
-Reach out to bar owners in the area. Many Thais are still banned from foreign bars. They should be allowed in as long as they can pay their bills. Bar owners should advertise in Thai and provide suitable prices, music and an environment for Thai customers.
-Return to holding street markets and festivals on Pattaya Beach (Pattaya City is exploring a fireworks festival and music festival already this year, as well as an Indian Diwali festival.)
-Hold a seafood festival like Phuket recently did on Pattaya Beach
-Have free public restrooms. (Pattaya City is discussing underground restrooms that will be free on Pattaya Beach.)
The Pattaya News notes these are reader suggestions and not our own. What do our English readers think? Remember these are primarily ideas to drive THAI nationals to the beach, not allow back in foreign tourists or open borders but to provide the city with more visitors during the current Covid-19 pandemic.