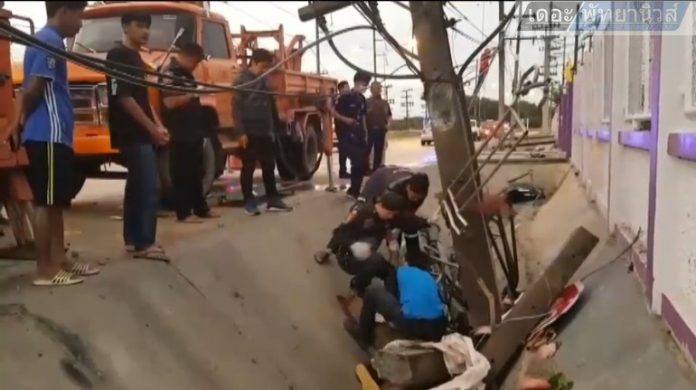 Chonburi –
A thirty-one-year old male driver has been pronounced dead at the scene after his pickup truck, which was carrying fish, crashed into a power pole while it was raining in Chonburi early this morning.
The Panat Nikom Police was notified of the accident at 4:30 AM on Panat Nikhom – Chacherngsao Road in the Wat Luang sub-district.
Rescue workers and The Pattaya News arrived at the scene to find a heavily damaged pickup truck in a ditch. Fish were also found scattered around.
The body of the driver, Mr. Krung Pimpijarn, 31, was found outside the damaged pickup truck nearby. His body was trapped beneath the power pole. It took a significant period of time to free his body after the accident.
Additionally, it took about three hours to restore electricity to the area as Provincial Electrical Authority staff worked on the issue.
Mr. Wanchai Hiranraksa, 20, said he was driving another pickup truck delivering fish to Kanjanaburi every day on the same trip with Mr. Krung. He had witnessed the accident but attributed the crash to the rain and wet road.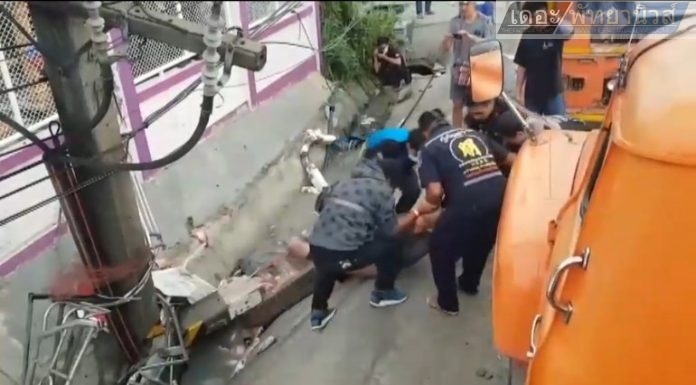 Mr. Soonthorn Meepueng, 49, a security guard at Panat Nikom Electric Authority Office nearby said there had been about ten recent accidents at this area. This time is the second death, according to him, and authorities should look into this particular area.