National –
Authorities in Northern Thailand provinces are rushing to provide assistance for their people who have been suffering from a flooding crisis as forest runoffs and heavy rainfall had battered the area continuously for two weeks.
Following the devastating flooding disaster that occurred last weekend, authorities are advised to cautiously monitor the situation since the water level in the Yom river remains high and is likely to fluctuate up and batter the area again in downtown Sukhothai, Phitsanulok, and more areas in Phrae province.
Rescuers in Sukhothai were patrolling on boats this morning, August 24, to provide assistance for hundreds of damaged households. Locals were seen stuck on the top floors of their houses and traveling by boats as several main roads were cut off.
Maitree Traitilanan, governor of Sukhothai province, had visited the riverside of the Yom river and had ordered relevant departments to build a flooding barrier to prevent the flash flood from entering the city.
The Governor told reporters: "More than 1,500 rai of houses, residents, and farmland have been inundated since this morning and the water had recently flooded some roads in urban areas.
"It is likely that more floods might occur tonight as the water level in the Yom river is still rising. Therefore, we would provide our residents with sandbags and big bags to build a flooding barrier in the villages as well."
Meanwhile, the Governor of Nan province, Worakitti Sritipakorn, had assigned the Nan Provincial Irrigation Office for assistance by providing 6 large water pumps to drain water out of the flooded areas in Wiang Sa district.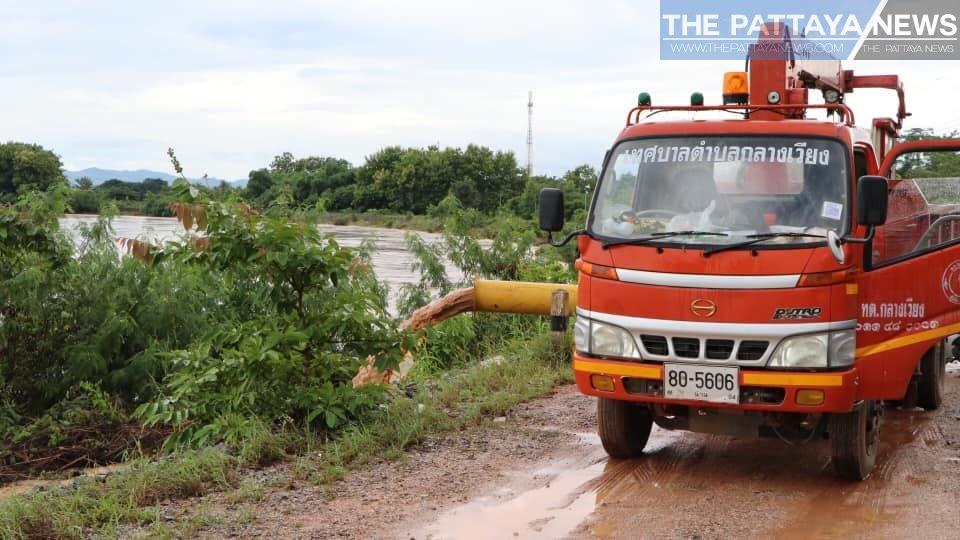 It is expected that the situation would be resolved within 5 days if there was no heavy rain nor high and strong currents flowing from other northern provinces, according to the Governor.
Worakitti added: "Many houses and fields were swamped in the province. Locals had lost their homes as well as lands and crops. With the added issue of the Covid-19 pandemic and measures to control the virus these floods have devastated many local residents."
"After draining the water, the provincial agriculture department and related officials would estimate the damage to agricultural areas in order to compensate and heal the affected people as quickly as possible, so that they could continue planting after the water subsides." Worakitti concluded.
Photo Courtesy: Khaosod and Thansettakij