Udon Thani –
Nineteen passengers were safely rescued after a passenger bus slipped over a road's edge in Udon Thani while driving on a slippery road yesterday, August 22, in the evening.
Police officers and rescue staff were alerted of the car accident on Mittraphap Road around 7:45 PM. The Nakornchai-Air bus was carrying a group of elderly citizens, monks, and soldiers and was seen flipping and plunging off onto the roadside.
One passenger was seriously injured and rushed to a nearby hospital while the others were slightly injured as they were trying to escape from the vehicle.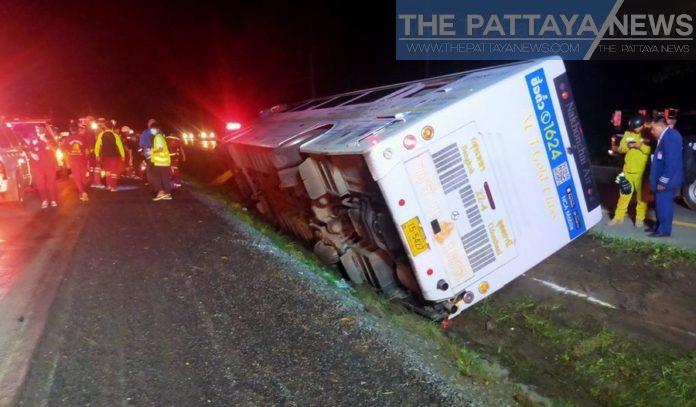 The bus driver, whose name was not given, told the officers that the bus only left the terminal for 45 minutes before it started to run out of track as he was driving on a curve and slippery road due to heavy rain.
The driver told reporters: "The road was very slippery due to continuous rain since early in the evening. The bus started to lose control and eventually flipped onto a roadside. Fortunately, the passengers who were seated were not killed.
"Everyone should be careful when driving during this rainy season. Rain and slippery roads may cause an accident anytime."
Photo Courtesy: Khaosod