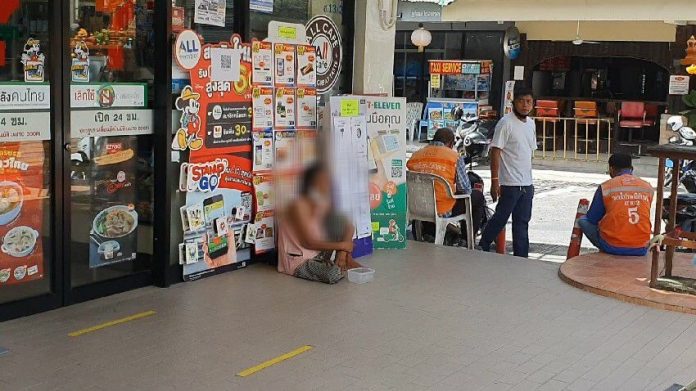 Pattaya-
Following several recent incidents with homeless people in Pattaya with mental disabilities either committing petty crime or being aggressive to local residents, Pattaya City Police and Chonburi Homeless Protection Officials are brainstorming on how to resolve the escalating situation.
Due to the Covid-19 crisis, the number of homeless in Pattaya has escalated sharply according to the Chonburi Homeless Protection Center.  We have covered the situation multiple times here at The Pattaya News and even accompanied law enforcement and the Center on numerous occasions to reach out to local homeless in Pattaya.
Here is one of our prior special reports on the situation, in which many homeless have moved into local abandoned beer bars, closed during the Covid-19 pandemic.
The Chonburi Homeless Protection Center does not provided exact statistics for how many homeless people are in the Pattaya area, although nearly every relevant agency agrees the number in the area has risen significantly. Night time can often see dozens of homeless people around the city sleeping in shuttered and closed businesses.
When the Covid-19 pandemic hit Thailand in mid March and the entertainment and hospitality industry, which employs tens of thousands, shut down, very few predicted it would be six months later and international borders would still be firmly shut and a city that last year welcomed ten million foreign tourists, the 19th most visited city in the world, would essentially be still largely shut.
Although lock-down measures have eased and all businesses are able to be open, roughly only thirty to forty percent of business around town has re-opened according to Pattaya City Officials. As the city GDP is based on about 80% tourism, the pandemic has devastated Pattaya, leaving many businesses such as shops, bars, restaurants, hotels and attractions that catered to foreign tourists shut, many likely forever.  As the border closures stretch on, many have run out of options and money and ended up on the street.
The Chonburi Homeless Protection Center have invited dozens of homeless to come and stay at local shelters along with offered many people not from the province bus tickets to return home and see family, if it applies.  They stated in meetings this week that these measures have helped, but many decline entering the shelters or have no family to return home to. Many of the homeless previously worked as vendors that sold goods to foreign tourists or other informal jobs and have a low level of education and cannot get most formal positions in the current environment, according to Chonburi officials.
Pattaya City Law Enforcement have stated that complaints on aggressive homeless bothering local residents and expats have increased and they have focused on those who are mentally unstable or have extreme drug or alcohol problems in order to protect the public. However, they also stated that arresting or locking up the homeless was not the answer.
The Pattaya News has previously been offered by some hotel owners whose hotels are currently closed to allow homeless to stay in their buildings.  We note that if there are individuals interested in possibly helping to reach out to the Chonburi Homeless Protection Center and local officials by calling the 24 hour contact center at 1337. Several local temples have also been reaching out to the homeless and providing support as well.
Officials plan to hold further meetings in the near future to discuss a potential more long term plan, however, until the tourism and hospitality sector recovers and international tourists return that many made their living from, options are limited. Thailand is approaching 90 days with no confirmed, locally spread cases of the Covid-19 coronavirus, but the cost to other sectors is increasingly showing its head, The Pattaya News notes.