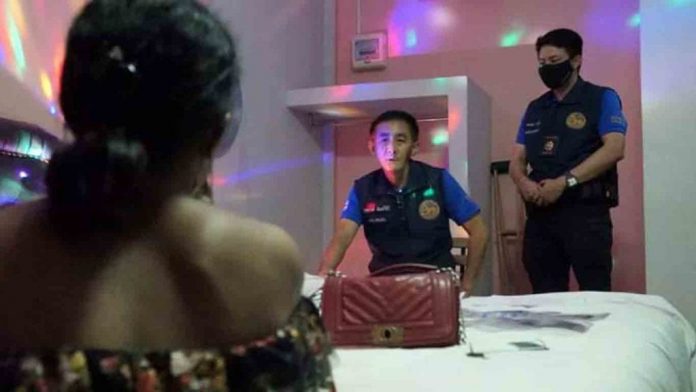 Sa Kaeo-
Police officers from the Special Operations Department raided a private party held at Lemin Resort in Sa Kaeo yesterday, August 13. A Cambodian transgender host, named as Wan Joe, 20, was arrested while 3 underaged female victims were safely rescued from the scene.
The raid followed a tip off involving officers from the Damrongtham Center of the Ministry of Interior who were informed about an alleged sex trafficking ring secretly run in the Sa Kaeo area by a Cambodian transgender woman who would allegedly provide female youngsters under the age of 18 for her clients.
The investigation revealed that Wan Joe allegedly used her Twitter account to invite other accounts to solicit sexual services by posting pictures of pornography and sexual intercourse online.
An official investigator disguised himself as an undercover agent and decided to contact her online account. The host started to send several pictures of young girls and offer her client a group sex party delivery service at a Sa Kaeo hotel on the night of August 13.
All of the sexual victims were under a child protection process in order to examine their identity while the Cambodian sex operator was charged for human trafficking for child sexual exploitation, engaging in prostitution for persons under 18 years old, engaging in obscenity on persons over 15 but less than 18 years old, encouraging children to behave inappropriately, and bringing pornography into a computer system where the public may have access.
Ronnarong Thipsiri, Director of the Law Enforcement Operations Center, said that that human trafficking is a serious crime and a major concern in Thailand as it uses a living human being as a commodity in forced labor and sexual slavery.
The director told the Associated reporters: "Human trafficking, especially child trafficking, has been an ongoing problem in the country for many years. But we never neglected the problem because it violates human rights."
"If the perpetrator of human trafficking was a government official, there would be twice as much as the punishment prescribed."
It is unknown if Wan Joe has secured a lawyer and remains in custody at this time.