Pattaya-
Vehicles are now allowed to go into the world famous Pattaya Walking Street 24 hours a day, 7 days a week-but not everyone is happy.
Operators in the Walking Street area reportedly asked the Pattaya City government to extend a current trial allowing vehicles to go into the street at all hours of the day. This trial was proposed as due to international borders still closed due to the Covid-19 Coronavirus the street has been much emptier due to lack of tourists. A significant amount of business remains closed, estimated at roughly sixty percent. However, some of the nightclubs in particular still have been popular even with reduced traffic.
Read more about the previous story HERE.
https://thepattayanews.com/2020/08/06/walking-street-entertainment-association-asks-pattaya-city-to-continue-to-allow-vehicles-to-drive-through-the-street/
The opening event Friday night was led by the Pattaya City Deputy Mayor Ronnakit Eakkasing.
Deputy Mayor Ronnakit said "this opening event is to invite both Thai and foreign tourists to visit the walking street."
"Now, vehicles are being allowed to enter walking street as a longterm trial." Ronnakit added.
"However it is one way traffic to prevent accidents."Ronnakit also said.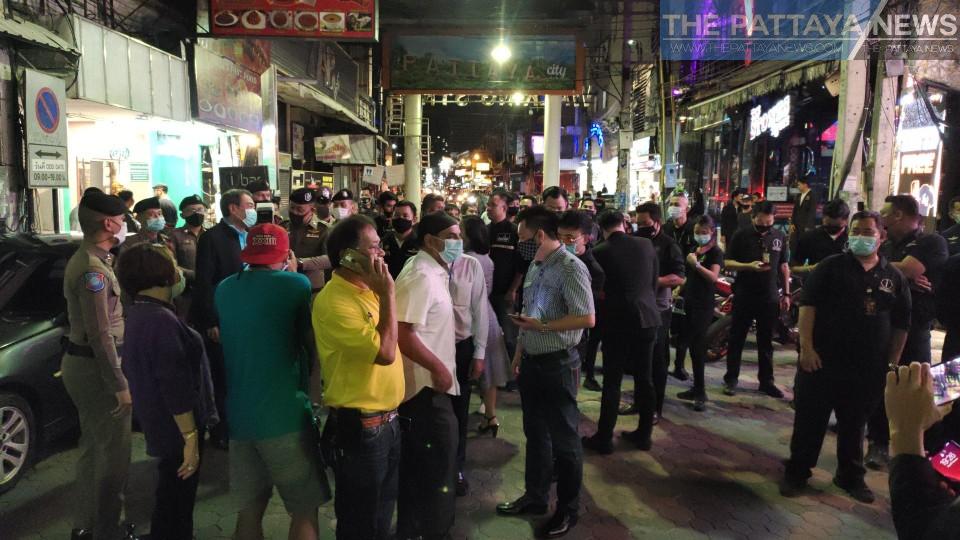 Comments on social media however, were mostly negative. Although many posters saw the point of making the area seem more lively and allow people to in theory park and get dropped off in front of their venue of choice rather than walk down a darkened street with many closed venues, in reality the traffic combined with pedestrians appeared to be somewhat chaotic on the first night. Parking is also allowed currently on the street which has led to reduced space for vehicles and pedestrians.
The photo above was taken around midnight on the first night of the new policy and posted to various social media channels. City officials have stated they will adjust the program as needed, especially in terms of parking, to make sure the area is still safe. They also stated taxis can drive through the street but cannot sit waiting in front of nightclubs at closure which caused substantial traffic backups on the first night.
Ronnakit stated that the opening to traffic at all hours is only temporary until borders are allowed to reopen and foreign tourists can return. Unfortunately, that date may be far off yet.