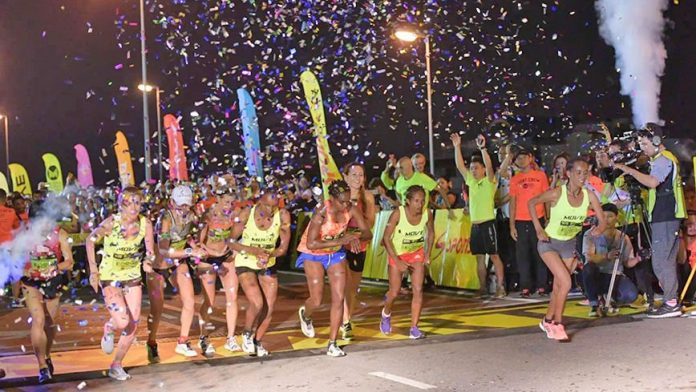 Bangkok-
The Bangkok Midnight Marathon had sparked controversy yesterday, August 7, after reportedly introducing their "new normal policy" that excluded foreigners from entering the race scheduled in mid December.
A comment, since deleted but widely shared, on their social media account showed an unknown admin on the page responding to a foreigner asking if foreigners would be allowed to participate by stating they would not. This led to widespread outrage shared widely, including on our social media feeds, by the expat community of Thailand. Several prominent foreigners, including travel blogger Richard Barrow, brought attention to the policy and asked concerned foreigners to ask the organization why a no foreigner policy was in place.
Regarding the regular race policies, all participants and organizers are expected to comply with social distancing rules and adhere to fever checks, screenings, and wear masks when appropriate during the event which is scheduled to be held on December 13.
But what had fueled the outrage is the online registration that only permits Thai runners to register, prompting accusations and allegations of racial discrimination from Thailand's expat community, many of which regularly participate in marathons.
Many Thais and foreigners responded angrily online as they considered this policy "misguided" and "racist".
BMM Race director Boonperm Intanapasat later issued an apology statement in the evening, stating that "the decision was made without prejudice and it only aims to minimize the possible spread of Covid-19 infections." The apology letter can be found below.
"Offending this community is the last thing we wanted to do. We love athletes of all nationalities." Stated one line in the apology letter by Boonperm Intanapasat.
Hours later, a second announcement was posted online regarding the registration for expat runners, hopefully, to improve the atmosphere since many of them were already unhappy about how the organizer had handled the situation.
However, overall response to the apology letter on English speaking forums, including The Pattaya News Facebook, was negative. Many foreigners brought up the point that all foreigners currently in the country have been here either since borders closed in March or were subjected to a two week quarantine with multiple tests for Covid-19 to re-enter the country. Another point brought up was that among those with travel history, a far higher number of repatriated Thai nationals had tested positive for Covid-19 upon return then foreign nationals.
To complicate the situation, another popular marathon, the Chiang Mai Marathon, reportedly has also stated that right now registration is only open to Thai nationals and they will examine allowing foreigners in October. This also has driven anger and heated discussion on social media as of this afternoon. Reportedly, they state the reason is for limited positions available and due to social distancing rules, however, critics state that there are other ways to handle this rather then a blanket ban of all foreign nationals.
The marathon situation follows several prominent events, temples and even a national bus service banning foreigners since the start of the Covid-19 situation, with many openly stating that it was due to "fear" of Covid-19. Additionally, an increasingly vocal number of foreigners have joined the #2pricethailand online hashtag program, along with various social media forums, to "call out" places that charge foreigners, especially those with work permits and who pay tax and call Thailand home, more than a Thai national.
It is worth noting that many prominent Thai journalists and writers, such as those associated with Thisrupt and the Bangkok Post have decried the practice as racist and stated that the number of places and events banning foreigners for "fear" of Covid-19 are misguided and hurting the image of Thailand.
The Pattaya News would be interested in hearing from our readers on this issue. Feel free to respond in the comments below or write us an opinion piece to consider for publishing and send it to pattayanewseditor@gmail.com