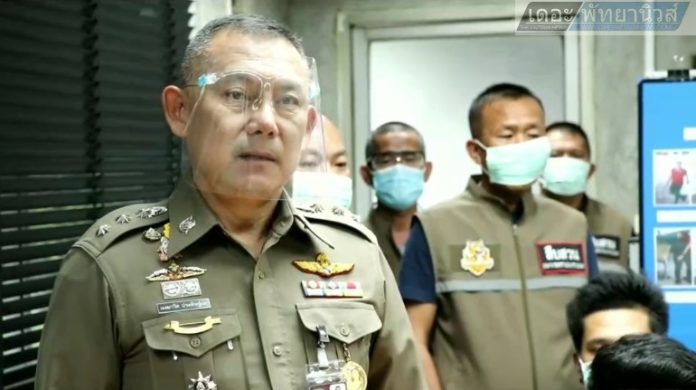 Si Racha-
Multiple suspects have been arrested after reportedly getting into a brawl at a restaurant which then carried over to a nearby hospital in Si Racha this past weekend, say police.
The Si Racha Police led by Si Racha Police Deputy Chief Colonel Maykawit Praditphon revealed the arrests and explained the incident to local press yesterday.
On Saturday, August First, shortly after midnight, Si Racha Police were notified that a young man had been injured after being attacked inside an emergency room at Somdet Phraborom Ratcha Tewee Na Si Racha Hospital.
Police arrived at the scene to find an injured man bleeding from several wounds Mr. Sakkarin Kongyai, 23.
Sakkarin told police that he was involved in a verbal and then physical confrontation with his girlfriend at a restaurant next to the hospital. He did not state what the argument was over. The name of the restaurant was withheld by Si Racha police due to the ongoing investigation.
Staffers at the restaurant asked Sakkarin to leave after the argument escalated with his girlfriend. Sakkarin, however, told police he refused to leave as he was angry and emotional.
Sakkarin, enraged after being asked to leave the restaurant, began destroying property in the restaurant, according to both Sakkarin and restaurant staff.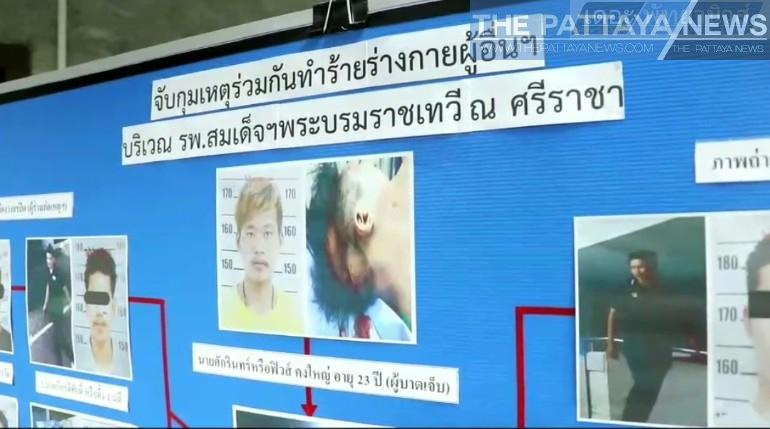 Mr. Tinnakrit Sukwan, who is a staff member at the restaurant, tried to physically stop Sakkarin from destroying property at the restaurant
Sakkarin, enraged, allegedly pulled out a knife and threatened Tinnakrit, causing staff members to pull Tinnakrit to safety, said Si Racha police.
At this point at least six restaurant staff members reportedly became involved to assist Tinnakrit and Sakkarin ran to the hospital nearby, outnumbered, stated both Tinnakrit and Sakkarin to Si Racha police. Sakkarin was hoping to find safety at the hospital.
Tinnakrit and the other restaurant staff pursued and attacked Sakkarin in the hospital emergency room before running away as nurses and security responded. Several weapons, including reportedly a golf club, were used to attack Sakkarin in the hospital according to Si Racha police.
All people involved in the incident have been arrested, according to Si Racha police and will face multiple legal charges. This is only the latest in a series of high profile altercations that have taken place at hospitals in Thailand. In July, a group of Thai teenagers tore apart a hospital and caused significant damage to property in Samut Prakan, following a physical fight with a rival group of teens earlier in the night.
Thai Government and law enforcement officials have been discussing stepping up security at hospitals across the nation to protect patients and staff.