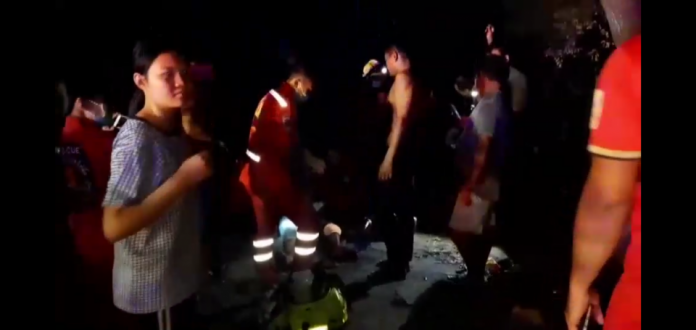 Chonburi-
A 39 year old Thai man has sustained serious injuries from a bullet wound while drinking beer in Chonburi.
Lieutenant Teerapan Kamdara of the Mueang Chonburi Police was notified of the incident at 11:00 PM on Saturday night in Nong Ree.
Police and emergency responders arrived at the scene to find Mr. Chalee Noinid, 39, who had sustained serious injuries from a bullet wound. He was rushed to a local hospital for medical assistance.
Locals residents nearby told Mueang Chonburi police that there were about six people drinking beer together with Chalee. They heard a gunshot and called police. Upon arrival at the scene of the incident, only Mr. Chalee was found alone, bleeding heavily from a bullet wound in his leg. Residents interviewed nearby all denied they were part of the drinking group.
Chalee was severely intoxicated and weak from blood loss due to the bullet wound. He reportedly told rescue staff he had been drinking alone, despite multiple other glasses at the table, and that "nobody" had shot him. There is no CCTV in the vicinity of the incident, police added.
Mueang Chonburi police stated that they do not believe Chalee's statement and will interview him further after he recovered from his wounds and sobered up. Lt. Teerapan added that officers would be searching for up to half a dozen other men who were drinking with Chalee for interviews and to determine who had shot him and why.