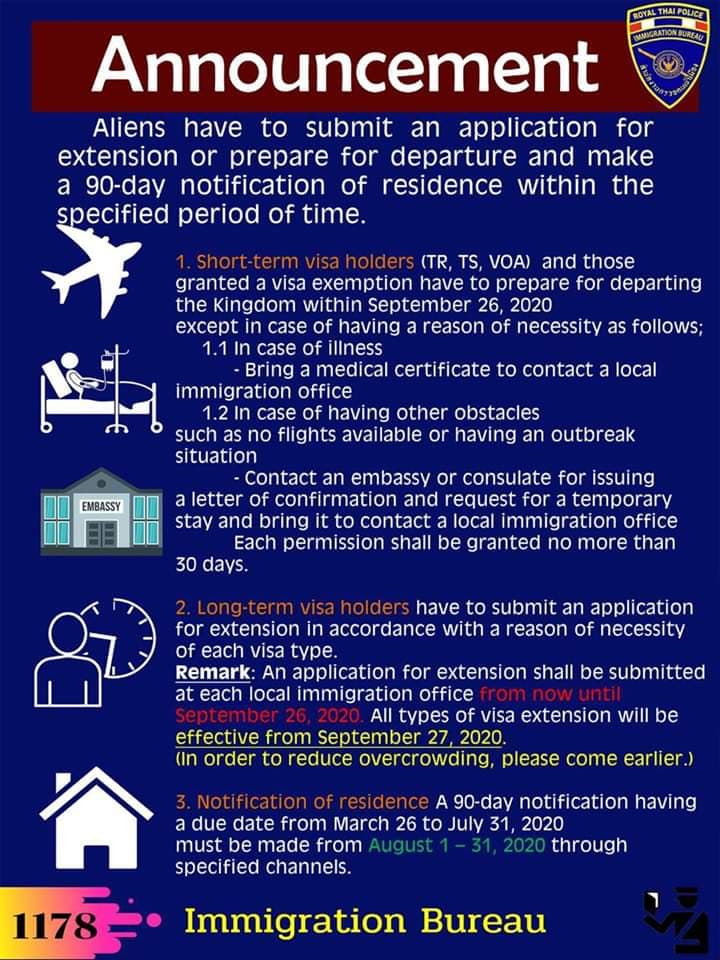 Thailand-
Thai Immigration, along with the English Spokesperson for the Center for Covid-19 Situation Administration, have released more information regarding a grace period for those in Thailand currently on visa amnesty.
The visa amnesty applies to tourists in the country who had a visa expire since March 26th, 2020.  Our original article on the visa amnesty, which was since extended, is here.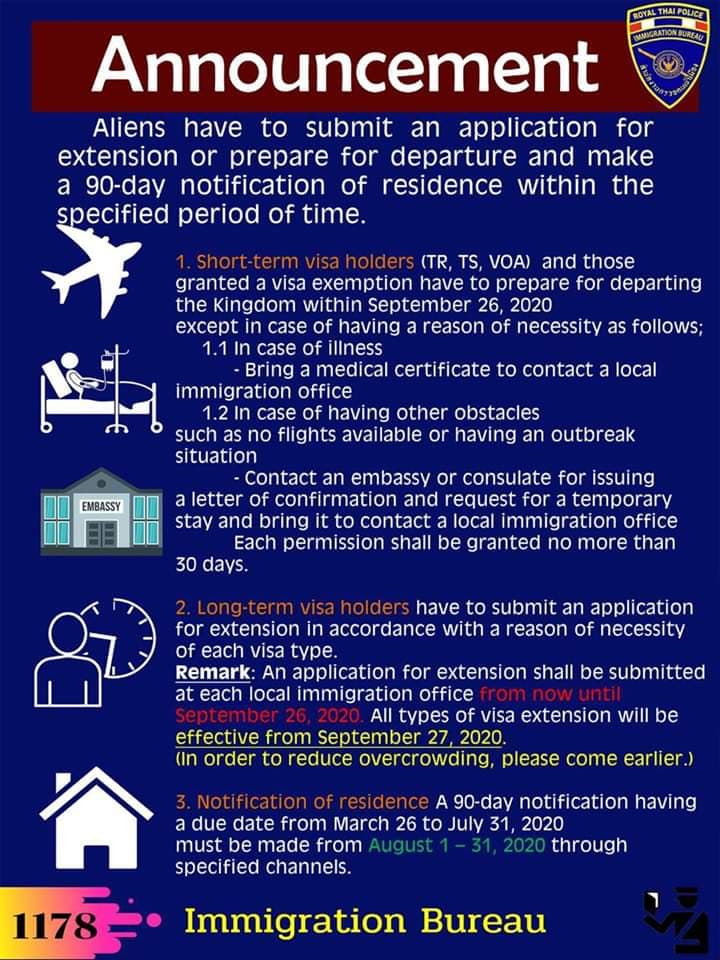 What does this mean, broken down in simple terms? The Pattaya News will explain below. Please keep in mind that although current as of publishing time this may be subject to change or individual rules and restrictions depending on your embassy or Immigration office:
-=-=-==-=-=-=-=-=-=-=-=-==-=-=–=-=-
Short term Visa Amnesty:
If you are currently on visa amnesty on a short term visa (tourist) you have until September 26th to leave the country unless you apply for another visa type or show you are unable to leave.
If you are unable to return home due to lack of flights or restrictions in your home country you must have a letter from your embassy that says so and provide the letter to Immigration by September 26th at the latest.
If you are unable to return home due to sickness, you must also provide proof to Immigration.
Those who plan to leave before September 26th do not have to inform Immigration but must leave before that date. It is clear at this time there will be no further universal amnesty or grace period after this date.
-=-=-=-==-=-=-=–==-=-=-=-
Long Stay Visa Holders:
If your regular yearly visa expired, is expiring or needs renewal during the amnesty period you have until September 26th to visit Immigration and sort this situation out with them. If your visa normally requires a trip out of the country as a condition of entry exceptions could possibly be given on a case by case basis but must be discussed with Immigration. You could also hire a visa agent if you choose to help sort through this information.
All types of visa extensions for long term visa holders will start on September 27th…Immigration urges to complete this sooner than later and not be concerned about possibly "losing" weeks of time for completing the extension early.
–=-=-=-==-=-==-=-=-=-=-=-=-=
Anyone who had a 90 day check in due from March 26 to July 31 has until August 31 to perform their regular 90 day check in, either in person or online.
-=-=-=-=-=-=-=-=-=-=-=-=-=-=-=
All overstay related penalties and fines will take effect starting September 27, 2020.
-=-=-==-==-=-=-=-=-=-=-=-=–=-
The Pattaya News encourages people to complete their required work sooner than later as it is highly likely Immigration Offices will be severely busy near the end of the Grace Period.
Questions? Visit your nearest Immigration office in person or call 1178. Please do not mail The Pattaya News with specific visa related questions, we do not have the answers to every possible unique situation.  If you are unsure you can also consider a visa agent for assistance.