Banglamung-
A Pattaya area garbage man who lost both his legs in an accident last year has earned a new respect for life and is back to work to provide for his three children.
Mr. Tanong Sangthong, 36 years old, lost both his legs after a car crashed into his garbage truck in Bang Lamung on September 26 last year. The incident was one of two in a short period of time which caused Pattaya waste collection services to change their uniforms, working hours and install new warning lights on all waste collection trucks. Tanong had been working on the back of the truck when the vehicle crashed, pinning him between the vehicle and his garbage truck.
Read more about the previous story below.
https://thepattayanews.com/2019/09/26/garbage-man-loses-leg-in-horrific-car-accident-in-pattaya/
Yesterday, Mr. Thanong revealed to The Pattaya News that he was being treated at a hospital for four months after the incident. Shortly after he was released the Covid19 pandemic swept the world and changed life for everyone.
Thanong said he was very depressed at first but he has a family with three children and was the sole provider. Therefore, he has to fight to make a living and provide for his family regardless of his disability. He said his children helped him out of his depression and inspired him to live his life the best he could. He told The Pattaya News he wants to be an example for his children, that even when life has you on the down and out and as bad as things are you alone control your recovery and future.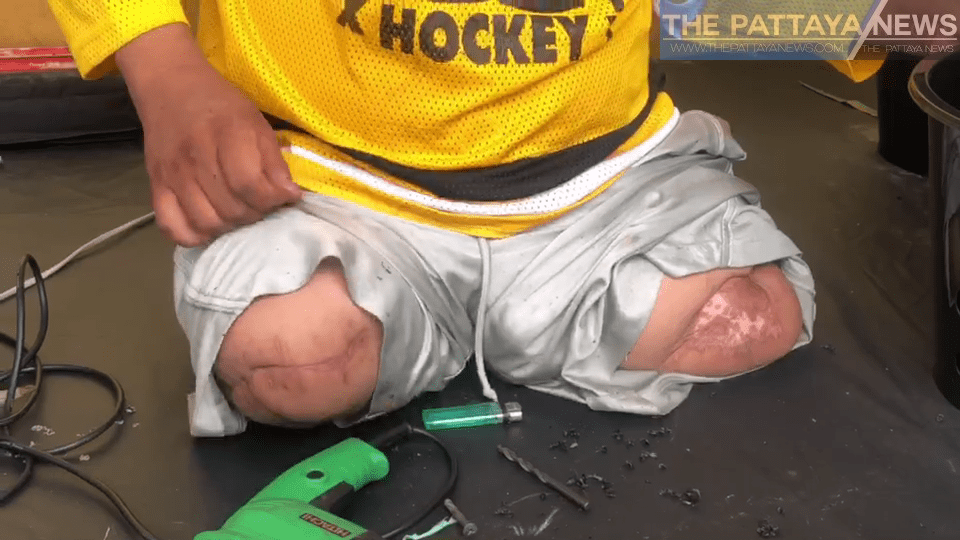 The Nongprue Municipality has helped him financially after the accident, he said. He had also received compensation from private individuals and organizations. He did not want to discuss in depth any financial settlements with the driver of the vehicle that took his legs but said the matter had been settled.
He is still employed for Nongprue Municipality doing various maintenance related tasks at their local office. He is working nearly every day and other then occasionally using special cushions to sit on he said he manages to be mostly self sufficient.
He has also started a side income by fixing motorbikes as his own job for extra income.
Thanong finished by saying that no matter how difficult a challenge life throws at you, it is up to you alone to overcome.
Photos: 77kaoded, translation Pattaya News