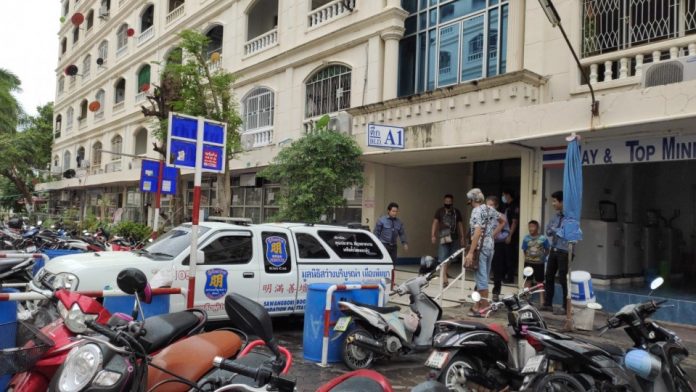 Pattaya-
A 68 year old British man was found hanging at a condominium in Pattaya this afternoon.
Captain Sombat Kaewmoonsuk of the Pattaya City Police was notified of the incident at 1:00 PM at a condominium in Central Pattaya.
Police, rescue workers and The Pattaya News arrived at a room on the third floor of the condo. The body of a 68 year old British man was found hanging from a door.
(The Pattaya News has withheld his name pending embassy and family notifications.)
Police believed that the man died at least five hours before his body was found. No signs of struggle were found on his body and no sign of a disturbance were found in his room.
The building manager, 37 year old Mr. Chukiet Tanklang, told police that a son of the housekeeper who takes care of the British man asked him to open the room after they could not contact the British man for his daily scheduled condo cleaning.
They opened the door and found that the British man was deceased.
At this stage, police believe that the British man's cause of death is by suicide. The investigation, however, is still ongoing and his family and embassy officials are being contacted.
This is the second hanging of a foreign national in Pattaya in less than a week. A Swedish national was found deceased earlier this week.
https://thepattayanews.com/2020/07/22/swedish-man-found-hanging-on-balcony-of-his-apartment-in-pattaya/
If you or someone you know is feeling depressed please reach out for help. The Pattaya News suggests the Samaritans of Thailand which can be reached here:
https://www.facebook.com/Samaritans.Thailand/