Sattahip-
A Royal Thai Navy officer rescued a sedan driver today after their vehicle flipped into a canal in Sattahip.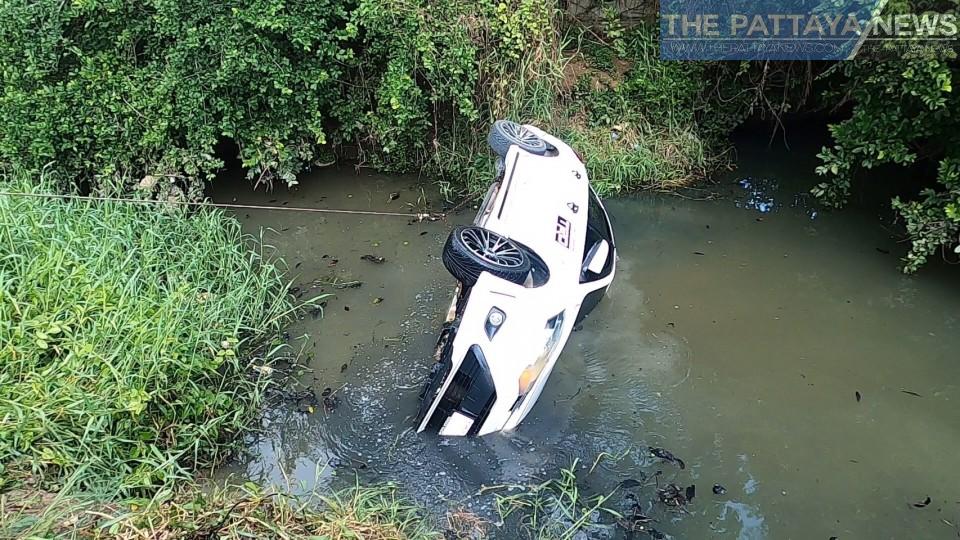 Lieutenant Colonel Samran Suktoe of the Sattahip Police was notified of the accident in Soi Kanda this morning.
Police, emergency responders and The Pattaya News arrived at the scene to find the overturned sedan in the canal near the road.
Lieutenant Commander Boonlert Kunmkrong from the Royal Thai Navy rescued the sedan driver Mr. Patipat Sathorn.
Mr. Patipat, who was not injured, said there was a hole in the road that he could not see. He claims his vehicle hit the hole before it flipped into the canal.
Lt. Commander Boonlert said while he was driving his car, he saw Patipat's sedan was flipping into the canal from his rear view mirror.
He stopped his car before jumping into the water and helping Patipat escape.
Sattahip police, meanwhile, reportedly confirmed the road had issues and contacted relevant agencies to fix the road.
Patipat thanked Lt. Commander Boonlert for rescuing him and potentially saving his life.