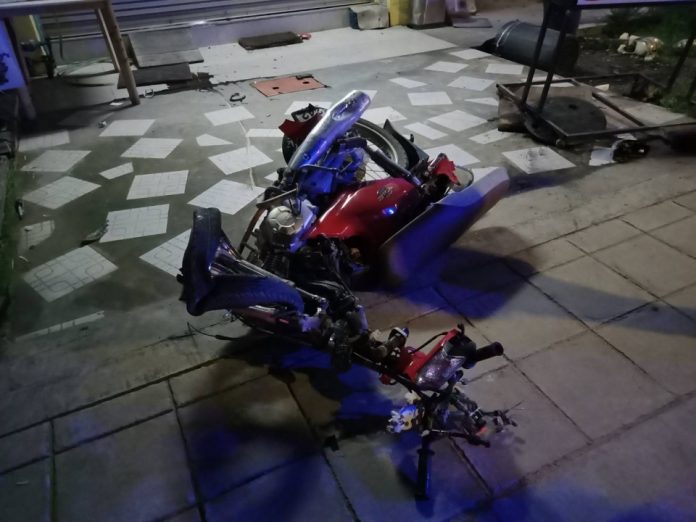 Banglamung-
A young motorbike driver died this morning after being hit by a sedan driven by an allegedly intoxicated driver, according to Banglamung police.
Lieutenant Colonal Teetat Tarunjan of the Nongprue Police was notified of the accident at 2:30 AM early this morning on Pattanakarn Road. A video of the incident is below.
Police, emergency responders and The Pattaya News arrived at the scene to find an unidentified man lying on the ground near his heavily damaged motorbike aged around 30 years old. He had sustained serious injuries and was later pronounced dead at a local hospital.
The sedan driver, 28 year old Phonchai Wongtem, was waiting for police at the scene. He was uninjured.
Phonchai told police that he is a local boxing trainer. He said he had drunk some beers alone before driving but denied being severely impaired or intoxicated.
Phonchai claimed he was temporarily blinded by an unknown white light before realizing that he ran into a motorbike and then crashed into a light pole.
Police are continuing their investigation for further legal action and Phonchai was detained by police and brought to the police station for further processing.