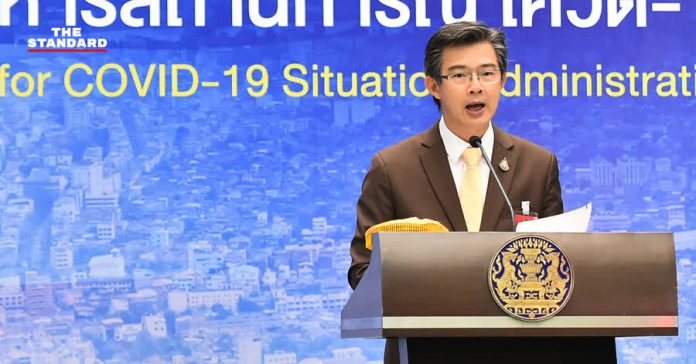 Bangkok-
The Center for Covid-19 Situation Administration, or CCSA, stated that discussion on the emergency decree and a "Phase Six" of lifting restrictions and re-opening were expected this upcoming week.
Dr. Taweesin Visanuyothin, the spokesperson of the CCSA, addressed both matters during a press conference this morning.
A meeting is expected of the committee that is responsible for easing restrictions and rules later this week to discuss Phase Six of the countries continuing process to ease rules and regulations that were imposed due to the Covid-19 Coronavirus. There are several items being considered for Phase Six and those currently are, subject to change or have additions:
1.  Allowing more foreign workers into the country, especially migrant workers with the proper documentation and procedures. Dr. Taweesin said these workers were critical to many industries in Thailand and the longer they were kept out the more were considering to come illegally versus use proper quarantines and processes.
2.  Food and beverage industry product displays. It is unknown if this includes the previously banned "Beer Cheer Girls" for bars and nightlife.
3.  Loosening rules and restrictions on the film industry to allow larger productions in more areas.
4.  Allowing more groups of foreigners to enter the country, specifically mentioned were Thai Elite Visa members.
Specific details on all of these items were not yet available and were expected to be discussed later in the week, Dr. Taweesin added. No specific dates were given on when Phase Six would begin and would likely come later. It is important to note that all these items are proposed and may not be in the final Phase or subject to change.
As for the Emergency Decree, Dr. Taweesin said this would be addressed not this week but the following week at a meeting of the National Security Council. Multiple factors would be taken into consideration in regards to lifting the decree, he also stated.