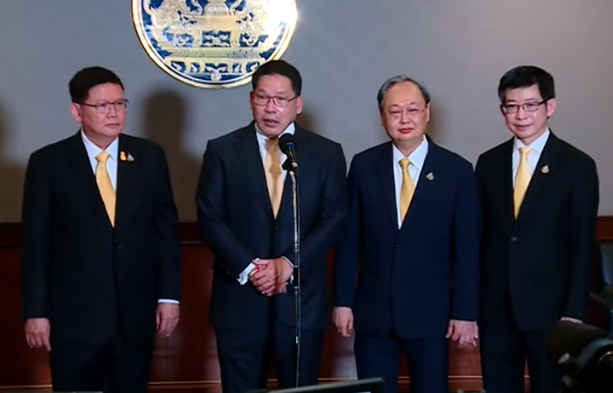 BANGKOK – The resignations of the Deputy Prime Minister, Dr. Somkid Jatusripitak, and four ministers in his economic team have taken effect, with the five holding a press conference claiming their decision was in the best interests of the country and that they were not pressured to step down.
The Finance Minister, Uttama Savanayana, accompanied by the Energy Minister, Sontirat Sontijirawong; the Higher Education, Science, Research and Innovation Minister, Suvit Maesince, and the Deputy Secretary-General to the Prime Minister, Dr. Kobsak Pootrakool, submitted their resignation letters to Prime Minister and Defense Minister, Gen. Prayut Chan-o-cha, through his Secretary, Disathat Hotrakit. Their resignations took effect immediately.
Dr. Somkid tasked Dr. Kobsak with submitting the letters, remarking that the decision was timely and in the country's interests, elaborating that it should reduce political pressure on the Prime Minister and allow greater clarity in terms of a cabinet reshuffle. He assured the public that the move was not due to any pressure and that the parting was amicable. Mr. Uttama added that future cooperation with the government was not out of the question if it is for the greater good of the nation.
Source: Thai National News Bureau