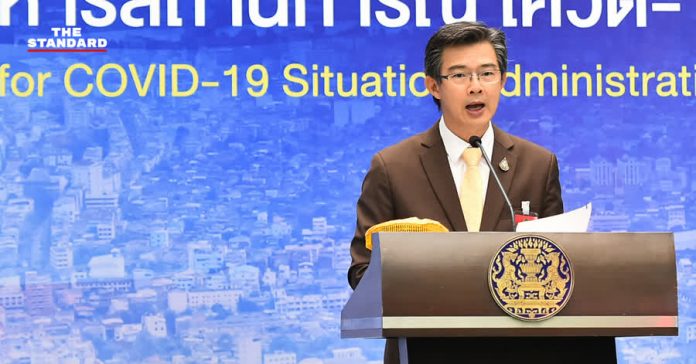 Bangkok-
The Center for Covid-19 Situation Administration (CCSA) revealed more details about a nine year old girl, a relative of a diplomat, who tested positive for Covid-19 over the weekend in Bangkok and is now being treated at a hospital.
The girl and her family were, according to Dr. Taweesin Visanuyothin of the CCSA, not required to do quarantine at a state or alternative facility and were on self isolation quarantine. This was standard procedure with diplomats, however, will likely be re-evaluated Dr. Taweesin said.  This comes the same day as an air crew member from a military flight, a 43 year old Egyptian soldier, also tested positive and may have visited public places in a breach of policy.
Crew members of flights, such as cargo, military, medical and repatriation, are given an exemption per the Thai government policy from a mandatory fourteen day quarantine while on a short stay but are not allowed to leave their hotels or travel in public.
The nine year old girl tested negative for Covid-19 in both a test in Sudan and a test on arrival in Thailand. However, a more comprehensive test taken three days after while in quarantine showed the girl was infected. Dr. Taweesin stated that unlike the Egyptian soldier case it was not believed the family broke their self isolation or exposed the general public, however their place of isolation is being investigated to ensure no potential issues took place.
Unconfirmed reports from associated press state that the family is reportedly in a condominium in Bangkok and that officials have taken steps to safeguard the safety of other residents. The girl is reportedly asymptomatic and her family has tested negative despite close proximity.
Dr. Taweesin stated that there had been no previous issues with diplomats self isolating at embassies or their own residences but due to public concern over this and the Egyptian soldier case this policy would be re-evaluated. The case of the girl was originally announced over the weekend but was only made clear today that the girl was a foreign national and not a repatriated Thai national as the CCSA only holds proper press conferences on Monday, Wednesdays and Fridays.
Thai nationals, meanwhile, have expressed outrage over both cases on social media throughout the day, upset that they have to go through quarantine while cases of foreign nationals who do not were emerging. The CCSA has asked for calm and patience while they investigate both cases and evaluate the procedures and regulations that were possibly broken in each situation.