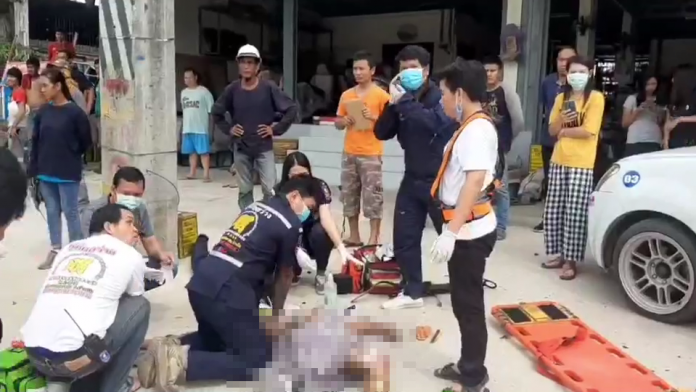 Si Racha-
A 36 year old employee of a local power company was severely shocked and fell, suffering severe injuries, while working five meters above the ground this morning in Si Racha.
The man, identified as  Mr. Adisak Bunsong, 36, who is an employee of the Bueng Provincial Electricity Authority, had been installing and changing electrical wires five meters above the ground on road 331, near Village number 6, when he was shocked.
Co-workers of the man said that it happened suddenly and claim that he was using proper precautions.  They stated to the associated press they were unsure how the accident took place.  Rescue workers from Prawayiang Thai Siracha gave Mr. Bunsong CPR at the scene and treated his injuries, rushing him to a local hospital. He was in critical condition and had suffered severe burns as well as fall related injuries.
As of press time, Mr. Bunsong remains at Laem Chabang hospital under treatment.
Photos: 77kao, translation and article by The Pattaya News team