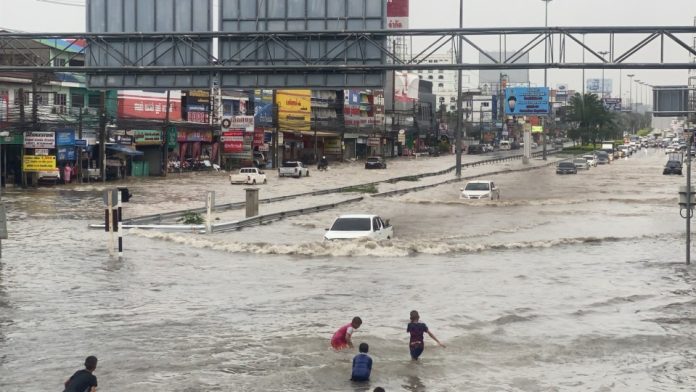 Thailand-
The Thai Meteorological Department has forecast isolated heavy rains for the Eastern part of Thailand over the next several days, including Chonburi.
A Southwest monsoon continues to prevail over the Andaman Sea and Eastern and Southeastern winds are present over Eastern portions of Thailand, increasing the chance of isolated rains.
Chonburi is likely to see at least some isolated heavy rain over the next few days. This follows significant flooding last week in the area which we covered here: https://thepattayanews.com/2020/07/07/flooding-and-rain-paralyze-pattaya-roads/
A chance of flash floods is possible if there is heavy isolated rain in the Chonburi area. This happened last week when a lady and her son were rescued from a car in the Pattaya area that experienced a flash flood.
Photo: The Pattaya News Team, taken last week during heavy rains.