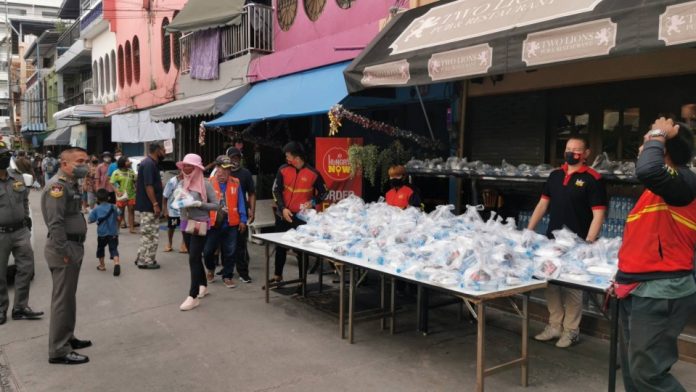 Pattaya-
Hungry Now, with the support of local media The Pattaya News and Fabulous 103 FM, handed out 2000 meals, each with a water and a face mask, to the needy in Pattaya over the past weekend.
Pattaya allowed all businesses to re-open after closures related to the Covid-19 Coronavirus on July 1st, with many having been closed for almost four months. However, Thailand has decided to keep its borders closed for the most part as the Covid-19 situation is still raging worldwide, leaving many tourist based places out of business and many owners deciding to stay closed until some tourists can return to the country.
Pattaya City Hall has stated on numerous occasions that roughly 80% of their overall gross revenue is off of the hospitality and tourism industry. With roughly half of the cities hotels and entertainments venues still closed by owner choice, many people remain out of work and many are still struggling to get by. During the Covid-19 Coronavirus the city had dozens of private individuals, businesses and city organizations, including City Hall, handing out food and supplies. However, most of those have now stopped but there is very much still a real need in the community.
The charity event took place on Saturday and Sunday this weekend at 5:00 PM near the Hungry Now office located at the Two Lions Pub and Restaurant on Soi 9, Pattaya Klang.  A total of two thousand freshly cooked meals were handed out over the two days. Hungry Now, The Pattaya News and Fabulous 103 FM remain committed to helping our local community and those in need.
Hungry Now CEO Mikael Lofberg together with Mr. Bryan Flowers and Mr. Adam Judd, owners of the Pattaya News and Mr.Thomas Robson, CEO of Fabulous 103 FM, put the event together.
Staff from Hungry Now prepared and handed out the food while Fabulous 103 FM and The Pattaya News promoted the event beforehand (especially on Thai social media), took photos and filmed the events with their staff.
Here is a video of the event: