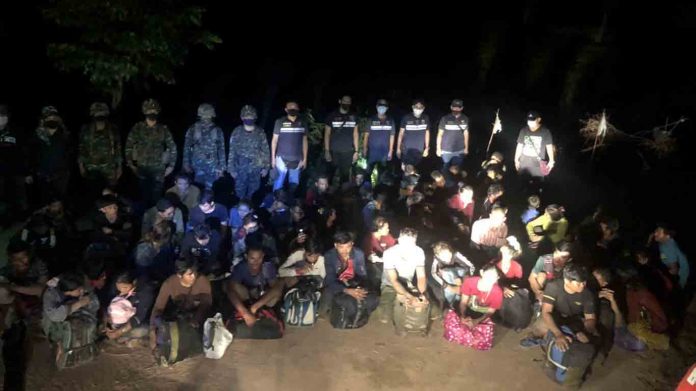 Sa Kaeo-
Sa Kaeo Immigration officials, in cooperation with border officials and Thai military officials have arrested 107 illegal border crossers in the past 24 hours.
General Tharaphong Malakham, the commander of the Burapha Armed Forces, ordered the military personnel along the Thai-Cambodian border to be on high alert, in conjunction with government policy, for illegal Cambodian people, primarily illegal workers, attempting to cross the border without proper authorization. This comes as National Thai officials and doctors are deeply concerned about the Covid-19 virus potentially being brought over the land borders of Thailand into the country.
34 of the illegal migrants were found in Ban Khao Luk Chang after concerned villagers and village security teams informed immigration that they believed illegal Cambodian nationals were in the area and being transported over the border illegally for a cost of roughly three thousand baht per person.
Checkpoints in the Sa Kaeo area, as well as statements from local residents in Ta Phraya helped successfully detect the vast majority of the remainder of the illegal border crossers. In total, 58 men and 49 women were arrested. They will be processed for deportation.
Thailand has not had a single confirmed locally spread case of Covid-19 in over 45 days.
Thai Source/Photos: https://www.77kaoded.com/news/thanapat/1791942