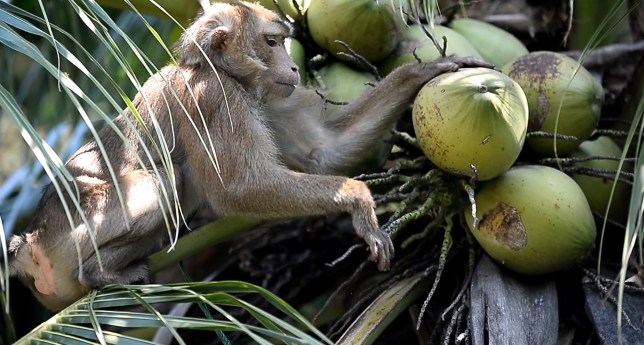 Thailand-
The Thai Commerce Ministry has denied claims by PETA (People for the Ethical Treatment of Animals) that monkeys are abused and mistreated while gathering coconuts at farms in Thailand.
PETA has made accusations, which have now been strongly refuted by the Thai Commerce Ministry, that monkeys utilized in the process of gathering coconuts from trees were abused, exploited and poor treated.  Boonyarit Kalayanamit, permanent secretary for Commerce, has denied these claims and invited foreign envoys to come visit Thailand and see for themselves that the animals are treated fairly and kindly.
The Commerce Ministry is also discussing the issue with the Agriculture Ministry.
PETA's claims has caused some Western retailers to remove Thai Coconut products from their shelves. PETA stated on their website that over 15,000 stores have removed products from their shelves in response to the claims.
Thai politicians, meanwhile, have formed a House subcommittee tackling the falling price of coconuts led by Pramual Pongthawaradej. He will be working with both the Department of Agriculture and the owners of large coconut farms to provide evidence to PETA that animals are not mistreated as alleged and to provide exact details over how the monkeys pick coconuts.
Photo: Metro/Getty Images