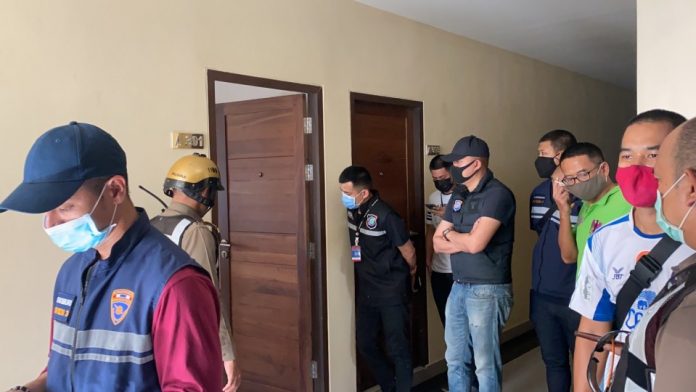 Pattaya-
A 33 year old Russian woman who is accused of trying to kill herself after allegedly brutally murdering her one year old daughter yesterday in Pattaya has denied the charges at a first appearance at Pattaya Provincial Court this morning.
Due to the high profile of the case the information regarding her statements and initial appearance were provided by Pattaya Police to the associated Pattaya press. You can read the original story below:
https://thepattayanews.com/2020/07/05/russian-woman-accused-of-killing-her-1-year-old-daughter-then-jumping-off-third-floor-balcony-and-surviving-in-pattaya/
The suspect, 33 year old Anna Efimova, slightly changed her story in a statement to Lieutenant Colonel Sanae Yosrungrueang of the Banglamung Police and the Pattaya Provincial Court.
Anna claims she was ordered by her husband to kill the child. Her husband, however, was not present and according to the landlord of the apartment building where the crime took place Anna had checked into the room three days prior alone with her daughter and nobody else had been present or visited the room. Pattaya Police were reviewing CCTV to confirm this. There was nobody else present in the room or area at the time of the incident or any sign of her supposed husband, police added. Yesterday, Anna allegedly told police her husband killed the child before altering the story today.
Pattaya Police, based on testimony of forensic investigators, stated the child was reportedly killed by blunt trauma resulting in being swung by her legs at a bathroom toilet until the toilet broke. The child was then covered with towels and the remains of the toilet. Pattaya Police stated Anna then attempted to kill herself by jumping from the third floor of the apartment, but survived with only minor injuries. Marijuana was found at the scene as well as two bags of other illegal drugs that were being tested as of press time.
Anna remains in police custody facing multiple legal charges. It is unclear if she has retained the services of a local lawyer. Police are still working on contacting potential family members of the suspect. Anna spent one night at a local hospital under suicide watch and recovered from her minor injuries and is now under close watch at a local prison.