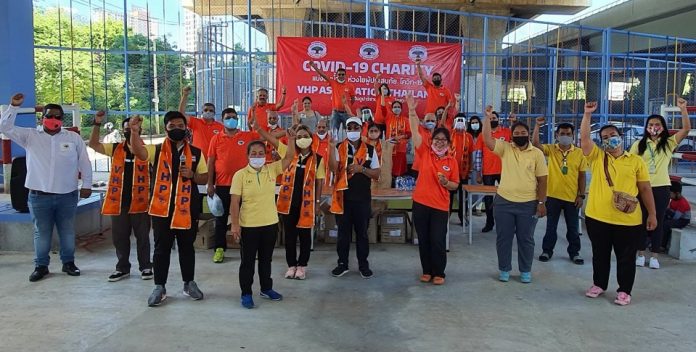 PRESS RELEASE  – VISHWA HINDU PARISHAD ASSOCIATION THAILAND 
#9Districts9Weeks #VHPThailand #COVID19 #HelpingHands #VHPFightsCorona
*8TH WEEK OF SEWA* 20th June 2020 @ Watthana District, Bangkok
One Vision, Many Efforts: VHP Thailand has supported 300 families of Watthana district in the heart of Bangkok with 1500 Kg rice, 300 packets of Pasta grocery. 350 Sets of Bharatiya Snacks and also Face Masks and Water for all. Eight consecutive weeks of COVID-19 Charity (Sewa) by the VHP Thailand team helped thousands of needy people in Bangkok.  Link to short video clip – https://youtu.be/Nv6-n4lemk0  .  Vishwa Hindu Parishad (VHP) Association Thailand along with sewa partners with the support from donors and volunteers has planned to distribute 15,000 kg of rice and other essential food supplies to the 3,000 families facing adversities due to COVID-19 in the 9 districts of Bangkok during the month of May and June 2020. 
VHP Thailand COVID-19 team has been closely working with local communities in consultation with respective District Offices for smooth implementation of sewa (charity) activities and in compliance with all preventive measures of COVID-19 enforced by the Centre for COVID-19 Situation Administration. 
The weekly sewa (charity) activities targeted to 300 to 500 families on Saturdays will cover nine districts in Bangkok including Sathorn (2nd May); Klong Toey (9th May);  Klong San (16th May); Bangkok Yai (23rd May); Yannawa (30th May); Bangrak (6th June); and Chorm Thong (13th June); Watthana (20th June) and Ratburana (27th June).
Short Video links of Completed Seven Charities in Bangkok