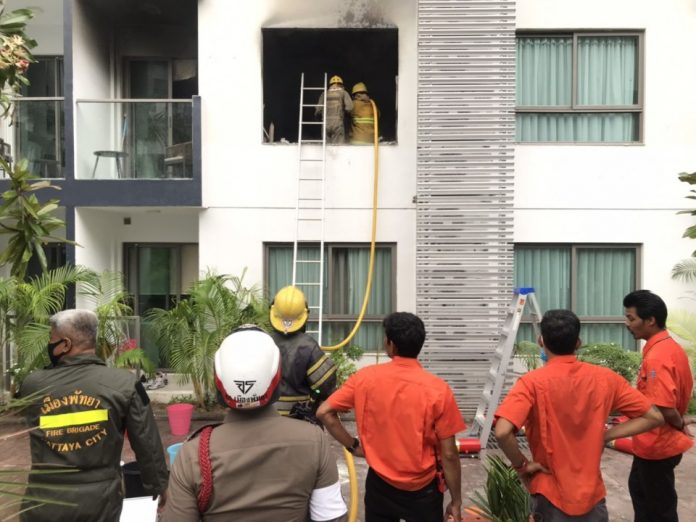 Pattaya-
A fire, whose exact cause is still under investigation, severely damaged a room at a luxury condominium in Pattaya last evening just before sundown.
Fire fighters were notified of the fire at 6:00 PM at a condominium in Soi Thappraya 9.
Fire fighters and The Pattaya News arrived at the condominium complex, whose name was withheld while the investigation is ongoing, to find thick smoke pouring out from a room on the second floor of the sprawling complex. A video of the event is below.
Police moved all Thai and foreign residents out from the condominium building who formed a large crowd to observe the situation by the pool.
The fire was quickly brought under control by Pattaya firefighters. The room was nearly a complete loss due to the fire, according to staff. There were no injuries.
Mr. Jutipong Laohapattanalert, 24, told The Pattaya News that he lives in a room nearby on the same floor. He saw the fire and some smoke pouring out from the room.
Jutipong told The Pattaya News that he knocked on the door of the room to tell the resident, reportedly a tourist, inside the room to escape from the fire before calling fire fighters.
Captain Niwat Pengkan of the Pattaya City Police is continuing an investigation to find the cause of the fire. As of press time, there had been no determination of the source of the event.