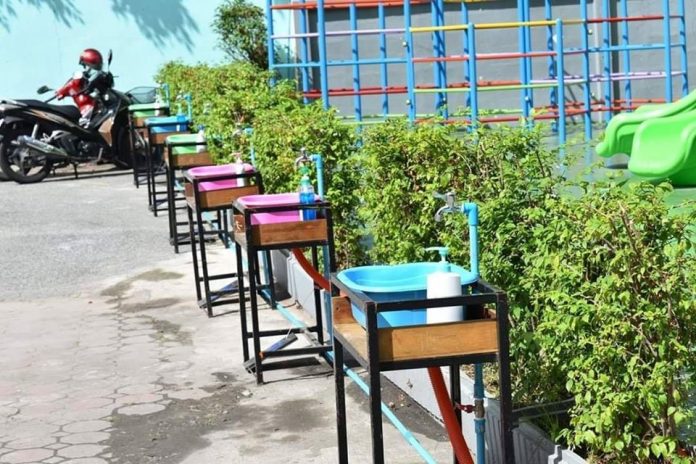 Pattaya-
Pattaya City officials have stated that Pattaya City Public Schools, closed for roughly four months due to Covid-19, are finally set to re-open but that things will look very different under strict rules and regulations set into effect to help prevent the potential spread of Covid-19.
Among other measures, some of the rules and measures being taken are as follows:
1. Having screening measures, such as temperature checks and hand sanitizer stations before entering the school. Parents will not be allowed to enter the school area and pick-up and drop-off areas will be tightly controlled.
2. All staff and children must wear a face mask at all times when in school. Young children who find masks uncomfortable can wear a face shield instead.
3. Adequate hand washing with alcohol, gel, soap between every classroom with stations set up around the school.
4. Students will be in the same group for all classes-IE, they will go teacher to teacher with the same class and not have different students in each class.
5. High focus on sanitizing all surfaces of the school at all times, such as doorknobs and rails.
6. Reduce congestion, do not organize activities that result in the integration of children from different groups. At the start of the school season, there will be a limit/lack of sports, events that bring people together. As the situation is shown to hopefully not cause a spread of Covid-19 these rules will be relaxed.
7. 1.5 meter spacing between all desks.
8. All desks must have barriers around them.
9. Staggered lunch time schedules, students may not sit next to each other at lunch and must be separated 1.5 meters apart from each other.
10. Alternative scheduling for some students with alternating days of learning to avoid being exposed to a larger group of people.
11. Crosswalks being strictly manned and encouraging social distancing.
12. School staff devoted to ensuring students socially distance and do not gather, play and socialize in hallways or public spaces of the schools.
Critics on social media have expressed concern that the measures, which are stricter than nearly any business venue, will hurt the social development of children and are not needed based on the official recorded and confirmed number of cases of Covid-19 in Pattaya and Thailand. Pattaya has not recorded a single confirmed case of Covid-19 in 73 days.
However, the Ministry of Education has stressed that many parents remain concerned and were hesitant to send their children to school without the enhanced and strict rules and regulations. They stated that if the school re-opening did not show an emergence of the virus and new cases that rules would be gradually eased and relaxed to encourage social development of children and allow more activities.