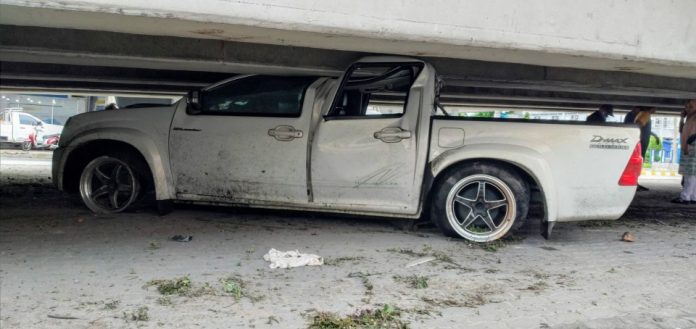 Pattaya-
A young driver said he lost control of his vehicle due to a rain-soaked road which caused his pickup truck to run off the road and get stuck under a highway in Pattaya yesterday.
Captain Amornthep Maima of the Pattaya City Traffic Police was notified of the accident at 4:00 PM yesterday at the Motorway 7 overpass on Sukhumvit Road.
You can view a video of the accident here.
Police, emergency responders and The Pattaya News arrived at the scene to find a damaged pickup truck stuck under the bridge.
The driver, 18 year old Mr. Sarayut Salamtae, was not injured.
He told The Pattaya News that the road was wet from rain. When he reached the curve, he lost control of the vehicle.
Police are reviewing CCTV in the area to determine if speed was an issue in the accident as well. It took a significant period of time to remove the truck from under the bridge did to being compressed tightly.