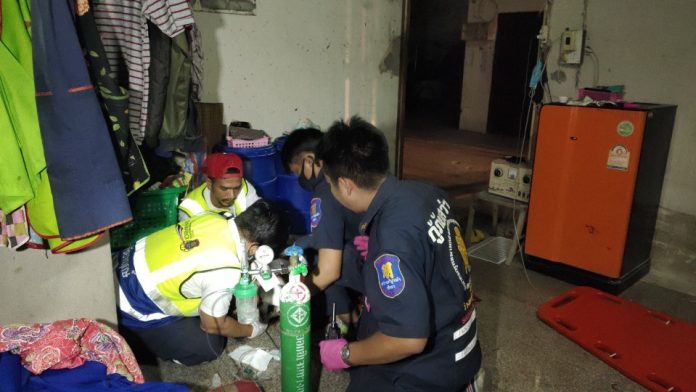 Banglamung-

Police are hunting for an alleged bag snatcher who is accused of brutally attacking an elderly woman with a knife in Banglamung Wednesday night.
The Banglamung Police Chief Colonel Pattanachai Pamornpiboon was notified of the incident at 9:30 PM Wednesday night at a small "mom and pop" style convienence store in Soi Sukhumwit 71, Nongprue.
Police, emergency responders and The Pattaya News arrived at the scene to find 68 year old Mrs. Wirat Wijitsombat bleeding heavily from a slash wound to her neck but concious.
Despite bleeding heavily she was able to speak and told medical workers that a middle aged male suspect attacked her and then snatched her purse. She was rushed to a local hospital and as of Thursday afternoon is in stable condition and expected to recover from her wounds.
Witnesses told The Pattaya News that Mrs. Wirat screamed for help which drew several witnesses to the scene who called emergency services. Witnesses also told the Pattaya News they saw a man with blood on his shirt ride away on a bicycle.
Police reviewed CCTV footage and identified the prime suspect in the crime as of Thursday morning.
An arrest warrant has been issued for the suspect who was identified by police as 41 year old Mr. Somsak Thipprapayam. He faces multiple charges of assault and theft and potential charges of attempted homicide.
Police have released a photo of the prime suspect to the media below. They have warned he is considered armed and dangerous and to not approach the suspect but to call police immediately if he is seen.
He is still at large as of Friday morning and press time.
Police located the bicycle allegedly used in the crime nearby, however, there was no sign of the suspect.