Pattaya-
Banglamung and Pattaya Police inspected multiple establishments and restaurants across Pattaya last night, closing multiple venues and warning others.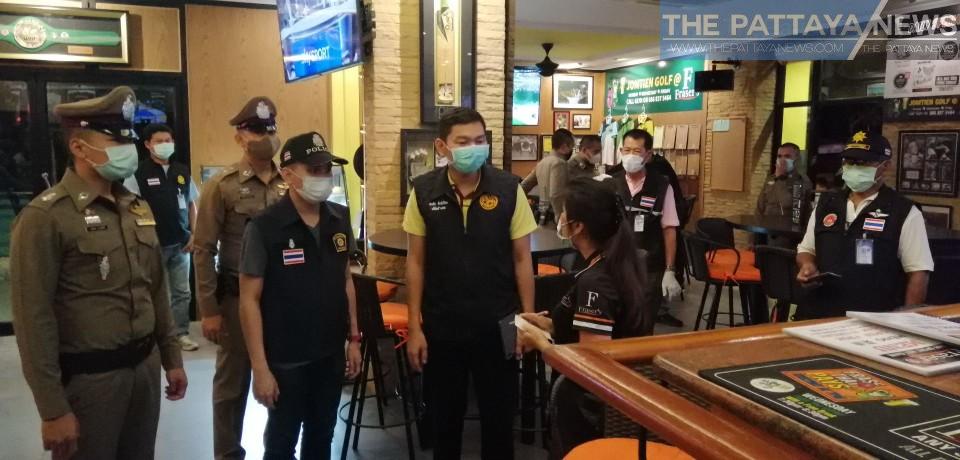 This follows the previous night in which photos and videos of packed restaurants and markets went viral on social media. We covered this in the article below:
https://thepattayanews.com/2020/06/16/confusion-and-crowds-on-the-first-night-of-phase-four-restrictions-being-lifted-in-pattaya/
Mr. Pornchai Sung-iad, Permanent Secretary of Banglamung District, was led by police to multiple restaurant venues across the city.
A video of the inspection of one venue is below:
Mr. Pornchai warned owners at restaurants firmly- If your main business is selling alcohol you are considered a bar or a pub and not a restaurant. He stated regardless of license status that violators will be closed and fined. The closure would last until bars, pubs and entertainment venues are legally allowed to open. Entertainment venues are still legally closed by the Thai government due to Covid19 prevention measures.
Pornchai instructed police to enforce the rules across the Pattaya area, ensuring that restaurants were not encouraging drinking without dining or other pub and bar like activities. He clarified that according to the measures given by the Thai Government that the relief of allowing alcoholic beverages at restaurants was to enjoy a beverage with a meal, not for groups of people to meet for only drinks like a bar.
Pornchai also stated that if restaurants that were allowed to open were violating social distancing rules and other rules like not using the Thai Chana platform for Covid19 tracing they would also be shut.
Multiple venues were inspected and shut in the Soi Buakhao area after alleged violations of both primarily selling alcohol or violating social distancing rules according to Pornchai.
He stated concerned citizens that saw alleged violations of restaurants breaking the rules could report them by calling the city call center at 1137.
The official reason for these rules, police stated, was to help stop the potential spread of the Covid-19 Coronavirus.
Pattaya has had zero confirmed cases of the virus for over two months.