Pattaya-
A significant road construction project has begun this week which will limit traffic to one way on South Pattaya Road for an estimated six months to support an underground cabling project in South Pattaya.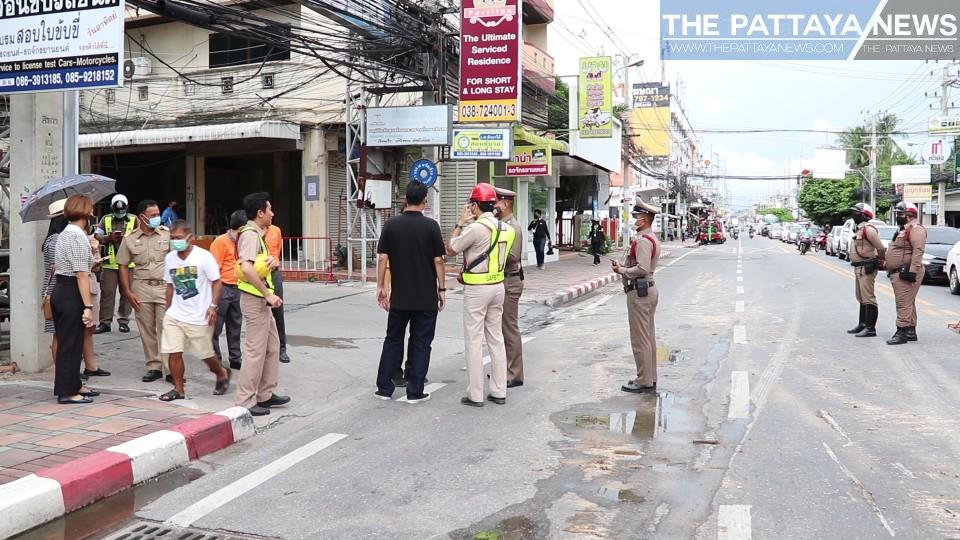 Pattaya City Deputy Mayor Kietisak Sriwongchai along with Major Arut Sapanon from the Pattaya City Traffic Police inspected the construction area on South Pattaya Road yesterday afternoon.
Major Arut told The Pattaya News "More traffic police are being assigned to patrol near the construction area to prevent vehicles from stopping on the yellow white and red lines in the construction zones, as well as cutting through the overall construction area on South Pattaya Road."
"No parking signs are placed along Pattaya Third Road around the vicinity of the construction entrances to South Pattaya Road." Major Arut added.
"Road construction signs and lights are placed on the construction area overall throughout South Pattaya Road to make sure that road users will clearly see and avoid any accidents." Major Arut concluded.
The construction project manager, Mr. Thanoo Surachailikawit told The Pattaya News "The road construction for underground cable and wire line installation is going to take about six months."
Do you want to continue to get quality, local, unbiased news? Please consider a small donation to support us and our work.
Thanoo added that the project, which is designed to move the long-standing eyesores of power lines in the area underground as well as other cable lines, will cause likely substantial traffic delays due to the road being one way and suggests that commuters avoid the area during the project.
This is in addition to construction taking place on the Sukhimwit highway nearby designed to expand and improve various U-turns in the area. We covered this project below.
https://thepattayanews.com/2020/06/13/more-roadwork-as-pattaya-city-widens-and-improves-u-turns-on-highway-to-help-reduce-accidents-after-recent-deaths/
Want our spam free daily newsletter/paper delivered to you every morning in time for coffee? Subscribe below.