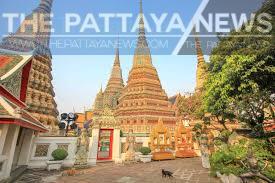 Bangkok-
Update since this original story was posted:
BANGKOK
Response from the Facebook page of Wat Po, the temple of the reclining Buddha….
"Due to restoration in progress on the Reclining Budhha and paintings inside the building it is not allowing access to non Thai nationals, it was decided that for the safety of tourists it would restrict access. It has been discussed and the temple should reopen to all from 1st july 2020. It was decided that it was a good opprtunity to use the situation with covid 19 to do the work that was needed, and we are very sorry for the inconvenience and disapointment people may feel."
Original story below:
Bangkok-
Social media has been abuzz after a prominent blogger took pictures of Wat Pho earlier this week, one of Bangkok's most popular tourist attractions, with signs stating foreigners were banned from entering.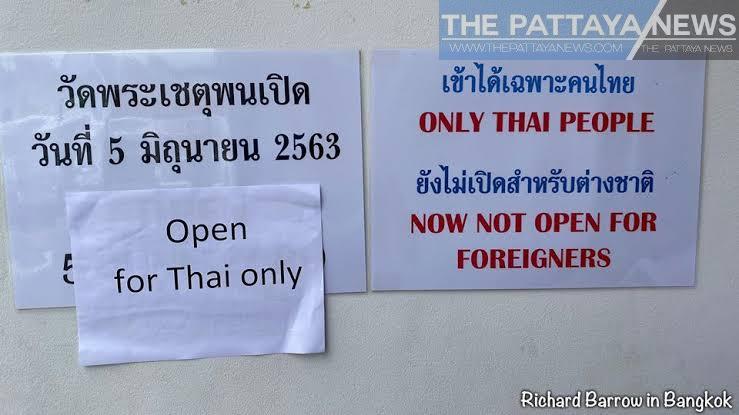 Temple officials have spoken to the Associated Press today and responded to scathing criticism online, however their response is unlikely to please many critics.
Wit Artchinda, an official with the temple, stated that there are several reasons, including to help stop the spread of the Covid-19 Coronavirus and because parts of the temple are currently under repair and that foreigners may get upset if they see this. He stated that the temple was only following government policy.
The Pattaya News and other associated press note that there is no policy from the government to not allow foreigners into temples or other attractions. The National bus service, Transport Company Limited, have also banned foreigners at this time as we reported yesterday below.
https://thepattayanews.com/2020/06/11/thailand-state-bus-services-open-for-business-on-all-routes-but-no-foreigners-apparently-allowed/
The Pattaya News also notes that all foreigners currently in the country would certainly have been here for several months and have no extra risk of carrying the Covid19 Coronavirus, as all inbound travel to the country has been closed since late March and borders to enter remain closed.