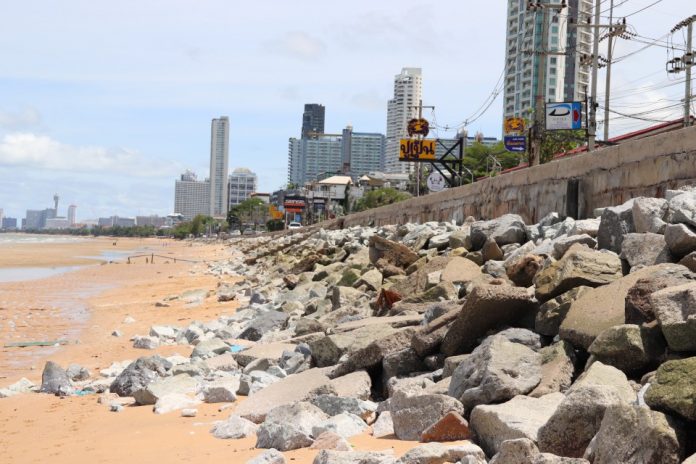 Jomtien-
Pattaya City officials announced today that by the end of the month work will begin on expanding Jomtien beach and reinforcing damage caused by erosion, a project which had already taken place on nearby Pattaya Beach….but this time on a much larger scale.
The project, which is being contracted to the Italian-Thai development company, will take an estimated 900 days and 586 million baht to complete.
The first phase will consist of the portion of Jomtien Beach from the Na Jomtien end to about Soi 11, consisting of adding about an additional 50 meters to the nearly completely eroded beach in those areas.
680,000 cubic meters of sand is being shipped from Koh Rang Kwian for the project, according to the Sixth Marine Region Office. This phase is due to start at the end of this month.
The second phase, from Soi 11 to Pratumnak, would take place in fiscal year 2022. The beach is less eroded here, according to the Marine Department, but will still be expanded.
For 2021 the project will shift gears to build up Bangsaen Beach, which has also been eroded significantly.
The Pattaya News originally discussed this news last year after officials decided they were so impressed with the expansion of Pattaya Beach that they wished to do the same for Jomtien Beach.