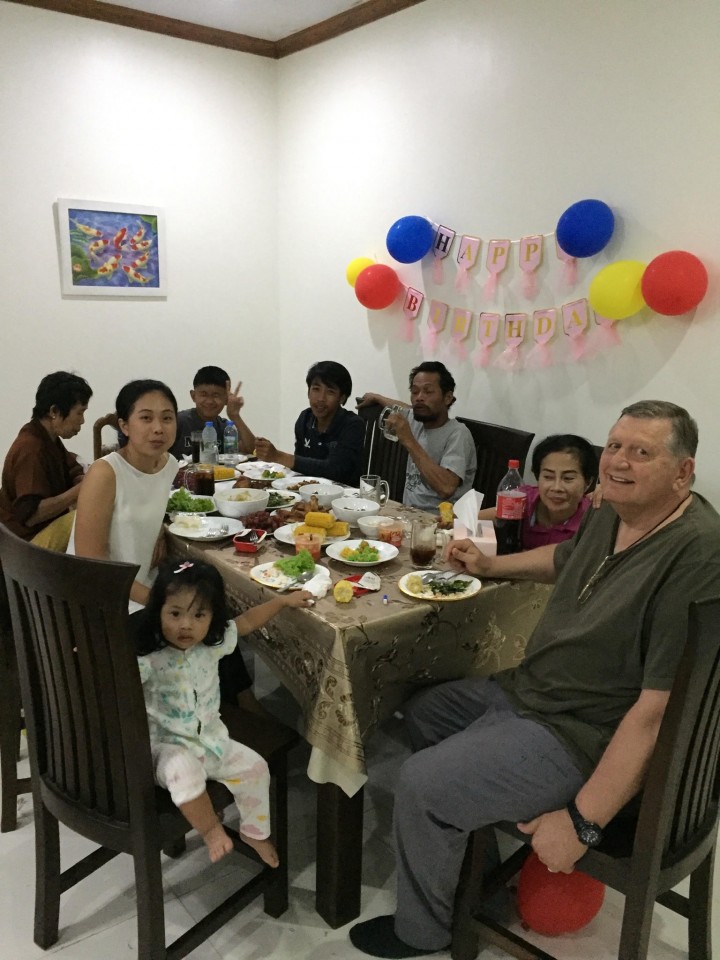 Thailand-
About a week ago the staff of the Pattaya News asked through our social media channels for those foreigners who were currently stuck outside of Thailand due to restrictions and rules around Covid-19 to send us their stories in hopes of us highlighting their plights to our readership in English and Thai.
We anticipated a solid response, but we were swamped with dozens of mails and messages, many heartbreaking.  These are people from all walks of life and all different countries and backgrounds but all share one thing in common-they are currently separated from those they love and in most cases the country they love due to the Covid-19 Coronavirus.
When the Kingdom of Thailand and the Civil Aviation Authority of Thailand completely shut down all international inbound flights to the country in late March, many people were working or travelling for personal or business reasons and not in the country. In most cases, this was a foreigner who was apart but in some cases entire families were on vacation.  With the policy of the government currently being only Thai Nationals to be repatriated to the country (and recently some work permit holders), many people are stuck or even had to make the difficult decision to send their family home to Thailand while they stay stranded.
Thailand has recently announced that limited international travel will likely, but not guaranteed, start again in July and a VERY limited amount of people with work permits and diplomats have been allowed to start returning to the country but many folks who normally call Thailand home are still stranded.  Those who can return face two week mandatory quarantines at their own expense, high insurance requirements, fit to fly certificates, health checks and other hurdles on top of limiting who can return.
These are their stories, in their words. We could not publish everyone's story, so curated the material. Many of these people have raised families, children and lived in Thailand for decades, supporting the economy. The majority understand ensuring repatriating Thai citizens takes priority but ask only that as rooms become available they are not forgotten and not classed as "tourists" but classed as in many cases sole providers for families, fathers to Thai children and husbands (or wives in some cases) to Thai citizens. Many stated they had made significant contributions to the Thai economy, some even paying taxes.
The Pattaya News publishes these stories and their tales in the hopes that a wider audience sees the situation these people are going through, not to criticize the government or their policies but to hope they remember these folks and ensure they are part of the plan to let them return home and reunite them with those they love in the near future. Nearly everyone we spoke to is ready to pay for their own quarantine, jump through any hurdle needed and comply with government policy-they only want a chance to come back. Some have made the decision to fly their family out, a decision most didn't want to do but with the uncertain nature of when they would be allowed back in, a decision made regardless.
Here are their stories, many in their own words and not edited or corrected by The Pattaya News writing team. Keep in mind some of these are Thai people writing in a language that is not their first language. This will be Part one of a series, we will publish more stories in the near future. If you would like to publish a story please mail us at Pattayanewseditor@gmail.com and we will consider your story for inclusion in a future story.
Tia and Stephen
     Hi my name Tia I am a Thai people. I want to tell u some my story
 Me and my husband we get married in 19 December last year. We be together after married only 2 weeks before the virus it go on me and him very happy because him can come to see me every 2 month as he is working. The last time him in Thailand is February him have plans to come in May and August  but the country it's close we don't know when it open. For me it hard to go to England because I am Thai I don't know why it to hard to do visa now we not happy with this going on now because we no time for us and we have plans to have baby. I hope the country it can be open quickly. I miss my husband and want him to come home.
Thank you,
  Tia
Barry
   I have been a regular visitor to Thailand for 8 years now and been in Hua Hin for 4 of those.  I work offshore, world wide on a 4 week on 4 off rotation.  I very rarely spend more than 25/26 days a time in Thailand, so I have never required a visa or work permit.
I have been with my Partner Kanayat (Pat) for 3 years now and we were both delighted last year when we discovered she was pregnant with our son.
Fast forward to March this year and I say my goodbyes as I head off to Oman for 5 weeks of work offshore, with everything in place for me to be back to Thailand for the 2nd April for the birth of our son.
As the weeks passed offshore and the COVID-19 situation was getting worse, most of the 100+ guys on our rig we're getting increasingly concerned about the possibility of returning home to loved ones and families.
Thailand were insisting on a negative COVID-19 test result within 72 hours of flying and also insurance, which I had.  The test was the tricky part with the short window as most tests took 2 to 3 days for the results.
Credit to my employer, we knew we faced a challenge to get me back to Pat and my son but they tracked down a hospital in Muscat that could administer the test and plans were put in place to get me home early before Oman shut down their airports.
24 hours before I was due to head home the regulations for entry to Thailand were changed.  The Kingdom now required a 'fit to fly' medical, insurance cover for COVID-19 and a work permit.  I do not hold a work permit, as I have never worked in Thailand.  I had planned to get a dependency visa but this could not be done until after my son was born.
Never the less, I thought I would be OK for entry as I had hospital bills and appointments for the pregnancy and birth along with the insurance and medical.  This was not to be and I was denied entry to Thailand 3 days before the birth of my son.  Qatar then flew me to the UK and I'm still here.
My biggest concern was that Mother and baby were both fit and healthy and fortunately that wish was granted and we have an amazing healthy boy named Lucas.
Lucas is 8 weeks old now and the closest I have got to him and Pat is video calls.  Thank god for modern technology but it's not the same.  My son needs his father with him.  It's tough right now.  I should be there bonding with him!  I'm missing out on the first few months of his life, possibly more.  I've missed his first smiles, I've not been able to comfort him when he's upset and I've not been able to give his mother a well earned rest.  These moments are irreplaceable!
At the moment the earliest I can fly is the 1st of July but nothing is confirmed yet and that could be pushed back.  I'm more than willing to self-quarantine for 14 days, COVID-19 test, whatever is required I'm prepared to do and pay for it myself.  I just want to be there with my family.
Unfortunately I am not alone.  There are many more in my situation, including several from Hua Hin,  With 2 facebook groups appearing,
Farangs Stranded Abroad Due to lockdown in Thailand (780 members) &
Thai Expats Stranded Overseas Due To COVID-19 Travel Restrictions (1500+ members)
This below youtube link is a result of these Facebook pages.  Please share and make it go viral.
FAMILY COMES FIRST – let us fly back to our love ones
I'm not looking for sympathy, I just want mine and other peoples stories out there as it has helped with expats of other countries with the same problem and if my story along with others can reach General Prayut and the CAAT then maybe it can help me and others to be re-united with their families all the sooner.
I can understand prioritising the repatriation of Thai nationals stranded abroad but business owners, English teachers and other work permit holders are no more important than reuniting families.
Thank you for taking the time to read this.
Best Regards
Barry
Jorge- (Editor's note, this situation shows a different side…a man in Pattaya working but his family stranded in Mexico)
Hello,
My name is Jorge Rojas, I am a Mexican engineer and I have been living in Thailand (East Pattaya) since February 15, 2020.
I moved to Thailand for a very attractive job offer that I have been pursuing for more than 2 years, this is my first time in Thailand. I have a wife and a baby boy who was 5 months old when I travel, now he is 9 months old, and they still in Mexico.
The original plan was to be here for just a couple of months, and in April my wife and baby would meet me after I already got certain stability, that's when all this happened (covid 19). I have been almost 5 months without seeing my family, and it hurts a lot to see my little baby grow through a screen and not being able to hug him.
I still think that being here is an excellent job opportunity, I have known very little about the city due to all the restrictions that have been there, my workplace is a very good company (it is a Thai company in Rayong) and the people are very friendly, but definitely being alone away from my family has been difficult. I believe that God, the universe or destiny (in whom you prefer to believe) has a message for each person in this world, depending on the situation we are living in, this is happening to you for a reason.
In my case I have learned one of the greatest lessons in my life: not even all the money in the world can buy a hug and a kiss from my beloved wife and son, the time I have been away from them will not go back but I have learned to value my family more than ever.
I look forward to the moment when we can meet again, despite the fact that the situation in Thailand is getting to much better, in Mexico they are still experiencing the maximum peak of infection and at the moment the Thai Embassy in Mexico is not issuing visas for Mexicans.
Thanks for reading my story
Jorge Rojas
 Clydel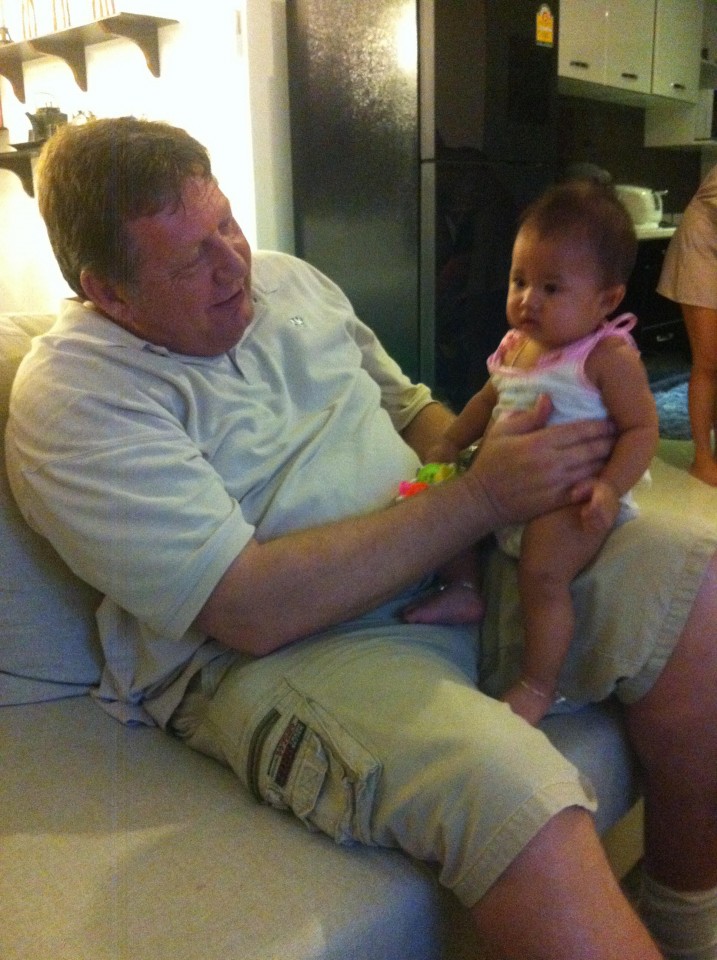 I am one of the hundreds of foreign nationals classified as "Tourists" by Thai immigration that are stranded overseas, away from their Thai families.
   Although not I am not a Thai citizen, I am a 71-year-old husband, father, and grandfather of a Thai family. I also have Thai mother-in-law, sister-in-law, and Thai brothers-in-law and nieces and nephews.
  My Thai wife, Pikul, and I married, 19 years ago and I work overseas, while she worked in Thailand and cared for our family, built a home and small farm near Phopphra village, in TAK province.
   I was working in Saudi Arabia when, due to COVID-19, the countries borders were closed and international flights canceled. Although I have a multiple entry non-immigration O visa, I can't leave Saudi Arabia or enter Thailand.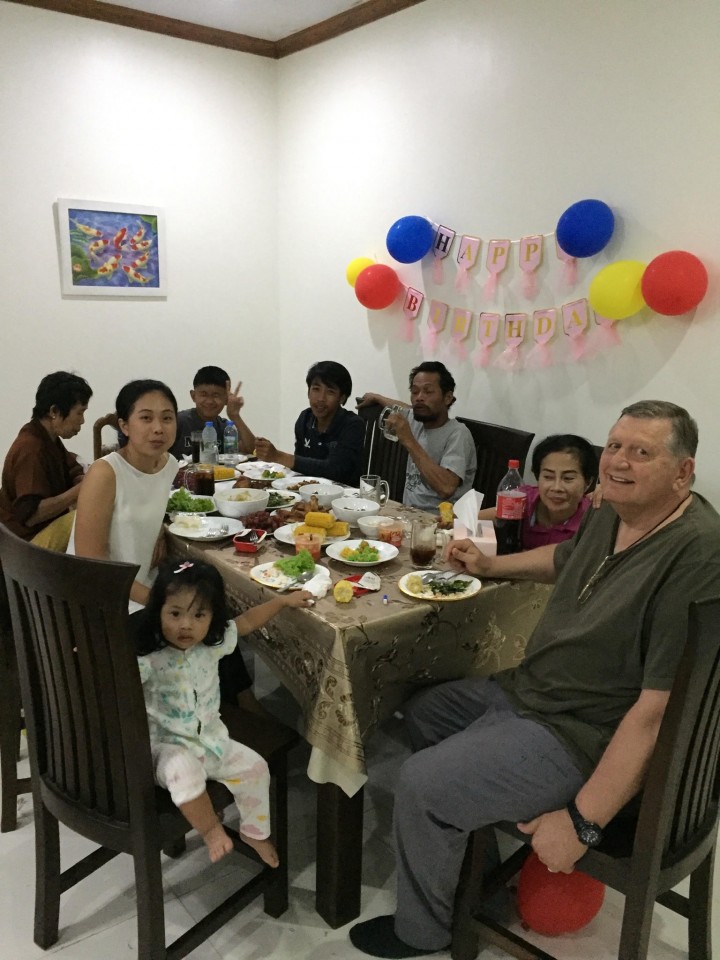 Also because of this pandemic, our children and other family members are unemployed. We like many others are hemorrhaging money to help support our extended families. Our saving is disappearing and my pension will not be enough to maintain two separate households for many more months.
 The really sad part of this story is that there are many young mixed Thai/foreign families with children, in the same situation.
  We humbly request to be allowed to come home once the repatriations of Thai nationals are complete and international flights resume. We will pay for the airfares, quarantines, and medical tests, and other expenses.
 Please help us convince the immigration authorities to give us priority over the tourist bubbles, and let us reunite with our families.
After all, shouldn't families come first?
You have my authorization to use the contents of this e-mail and attached photos in news articles.
Jo
Photo is Jo's two children, used with permission
Hallo my name is Jo
I belong to the Expats group Farangs Stranded Abroad Due to lockdown in Thailand
I have been stuck in Europe for 3 months now (Rome), we residents in
Thailand have no chance of coming back to our families.
I find that most inhumane considering the many children who are in the
moment without a father or mother. I miss my children, I miss my
wife, I miss my house, my life in Thailand.
My little princess contacted me today via video, she is 3 years 5
months old and told me when I get home that she missed me. I had to
cry like every day and night I can no longer sleep I miss my family so
much i would die for her.
For me it is not a problem to get a Covid test here, I would also pay
for my 14-day quarantine myself.
I, like other expats, have contributed a lot to the economy,
we are not tourists we are citizens of Thailand from foreigners
I as well as other expats ask you to rethink everything and if
possible direct it in the way so that this nightmare has an end for me
and many others and everyone can go back to their families.
thanks to all
Jo Harley