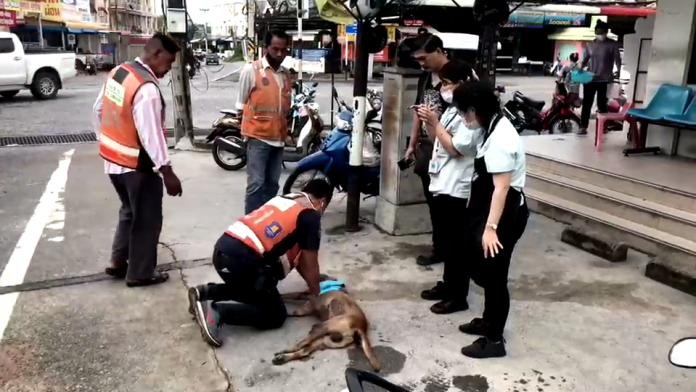 Si Racha-
A well known local stray dog who lived next a motorbike taxi stand and in front of a 7-11 in the Surasak sub-district was poisoned according to Sawang Prateep Siracha Rescuer staff yesterday.
The dog, named Chao Yen Khun, was a local fixture and taken care of daily by the motorbike taxi stand drivers nearby, who attempted to save the life of the animal but failed.
Mr. Kittichan Suthikul, 26 years old, a motorbike driver, told associated press that he believed the person who poisoned the dog was the same person who had poisoned several dogs at the nearby Chakkho temple. Authorities have been looking into the poisonings, he added, but so far were unable to find the culprit.
The dog was found in front of the seven eleven, where he normally stayed in front of to enjoy the air conditioning, convulsing and foaming from his mouth, suffering a series of seizures. The Rescue staff confirmed the dog had been poisoned.
Kittichan said the dog was very friendly and never did anything to harm anyone and had never bitten or caused any problems. The motorbike taxi drivers buried the dog nearby after he passed away. Si Racha police are reportedly looking into the incident.
Photos and original Thai Source: 77kaoded