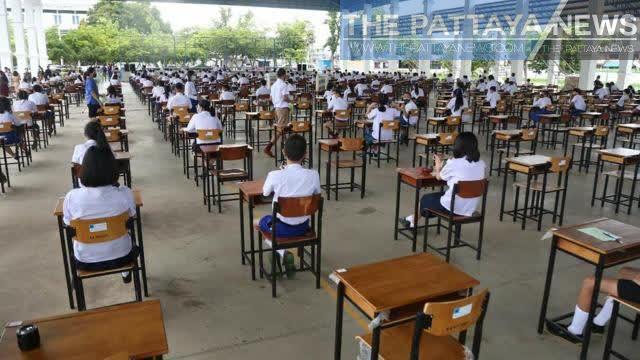 BANGKOK – A round of exams, for students applying for seats in Grade 10, took place across Thailand yesterday (June 7). The Education Minister, Nataphol Teepsuwan, visited Singsamut School in Chonburi province and Banchang Karnchanakul Witthaya School in Rayong province to see how well they are adapting to the new normal.
Both schools made preparations and strictly observed precautionary measures against COVID-19 transmission, as recommended by the Ministry of Public Health. The Education Minister held discussions with the schools' board members and teachers regarding their readiness to resume classes on July 1. He offered moral support to all teachers, who have to cope with the new normal.
After visiting the examination venues, the Education Minister said his ministry will continue developing the quality of education in the country. With every school offering equal educational opportunities, parents will not have to send their children to schools in city areas.
Schools in other provinces are following measures to help limit the spread of COVID-19.
At Yupparaj Wittayalai School in the northern province of Chiang Mai, some 600 students came to sit for their exams. They had their body temperature taken and were required to wear protective masks and practice social distancing. Desks and chairs were at least one meter apart. Students must turn off their mobile phones and leave them on the classroom floor. To prevent overcrowding, their parents were not allowed to wait inside the premises. The students can call their parents to pick them up after completing the exams.
At Khon Kaen Wittayayon School in the northeastern province of Khon Kaen, more than 800 students arrived for the examination. The school only permitted the students and their staff to enter its premises. Their parents had to wait outside. All students had their body temperature taken, and those without protective masks were not allowed to take the exams. Disease control officials were sent to the school to ensure that all public health measures were implemented.
The preceding is from the Thai National News Bureau