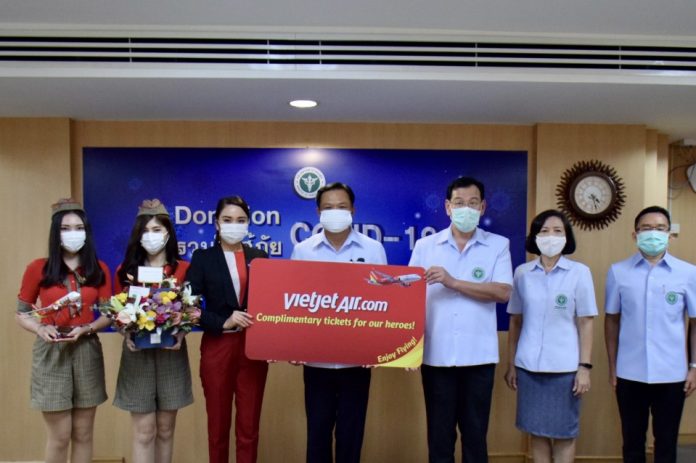 The following is a press release by Thai Vietjet. The material and content within is their own.
Bangkok, June 1, 2020)  – Today, Thai Vietjet – new age carrier, presented to H.E. Anutin Charnvirakul, Deputy Prime Minister, at the office of Ministry of Public Health, for the airline's official offer of complimentary flights to medical staffs who have joined in the combat against Covid–19. 
This is one of the major activities that Thai Vietjet has done in appreciation to all the heroes who have risked their lives working days and nights to protect the people's health over the pandemic.
"Thanks to the medical forces courage and priceless sacrifice, we are honored to offer this gift to all medical staff as a special appreciation. We look forward to serving all the heroes on ThaiVietjet new normal flight." – Ms Sayada Benjakul, ThaiVietjet Corporate Affair Director shared.
Thai Vietjet has offered one–year complimentary air tickets with travel from 1 Jun, 2020 – 31 May, 2021 to all members of Thai Covid–19 Prevention & Control Committee and all doctors and nurses of 160 appointed hospitals for treatment of Covid–19 patients in Thailand.
The complimentary tickets are applicable to all Thai Vietjet's routes from Bangkok (Suvarnabhumi) to Vietnam's Dalat, Da Nang, from Udon Thani to Ho Chi Minh city, as well as all domestic routes from Bangkok (Suvarnabhumi) to Chiang Mai, Chiang Rai, Phuket, Krabi, Udon Thani, Phuket – Chiang Rai, and Udon Thani – Chiang Rai and other routes extended in the year. Thai Vietjet is extremely grateful and fully dedicated to delivering the flights as special gifts to those heroes.
About Vietjet:
The new-age carrier Vietjet has not only revolutionized the aviation industry in Vietnam but also been a pioneering airline across the region and around the world. With a focus on cost management ability, effective operations and performance, Vietjet offers flying opportunities with cost-saving and flexible fares as well as diversified services to meet customers' demands.
Vietjet is a fully-fledged member of International Air Transport Association (IATA) with the IATA Operational Safety Audit (IOSA) certificate. As Vietnam's largest private carrier, the airline was awarded the highest ranking for safety with 7 stars in 2018 and 2019 by the world's only safety and product rating website airlineratings.com and listed as one of the world's 50 best airlines for healthy financing and operations by Airfinance Journal in 2018 and 2019. The airline has also been named as Best Low-Cost Carrier by renowned organizations such as Skytrax, CAPA, Airline Ratings, and many others.
Thai Vietjet is cooperating with Vietjet to extend its flight network and provide more opportunities for travellers in the world to discover Thailand and many other countries. Currently the airline operates 7 domestic routes from Bangkok to Chiang Mai, Chiang Rai, Phuket, Krabi, Udon Thani plus the direct flight from Chiang Rai to Phuket and Udon Thani, 8 routes connecting Thailand and Vietnam such as Bangkok to Da Lat/ Da Nang, and more international routes from Thailand to mainland China.
Further information at www.vietjetair.com