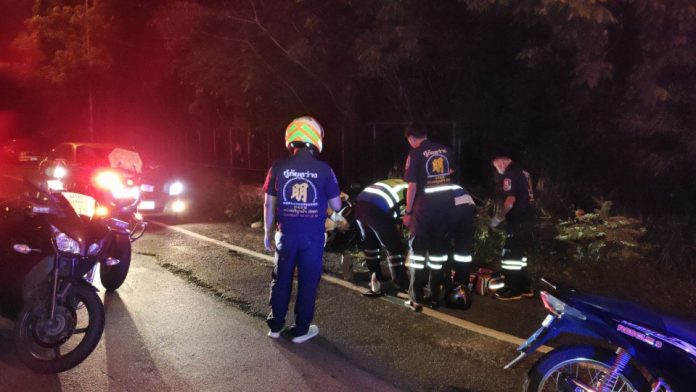 Banglamung-
A 44 year old woman has sustained moderate injuries after a dog allegedly ran in front of her motorbike in Banglamung last night just before curfew time.
The Nongprue police was notified of the accident at 11:00 PM near Mueang Pattaya 7 School.
Emergency responders and The Pattaya News arrived at the scene to find a badly damaged motorbike. Nearby, they found the driver, 44 year old Ms. Usa Prommart.
She suffered from several facial wounds. She was taken to a local hospital for medical treatment.
She told The Pattaya News that while she was driving back home before curfew time, a dog had dashed out in front of her motorbike causing her to crash.
She swerved to avoid hitting the dog and instead lost control of, crashing, according to her.
Nongprue police did not find a dog in the immediate area but stated they believed the woman's story.