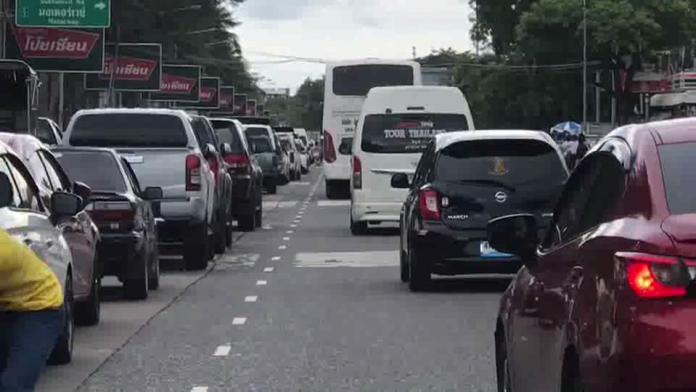 Bangsaen, Chonburi-
Thousands of domestic tourists as well as local residents and some foreigners went to Bangsaen Beach this afternoon in Chonburi province to enjoy the Government Holiday marking the birthday of Her Majesty the Queen's birthday.
Images went viral on social media throughout the day causing concern from some about social distancing. The beaches had just recently opened on Monday of this week but today was the first government holiday which attracted far more than the normal amount of visitors. Many of them were from Bangkok, according to Bangsaen officials.
Mr. Narongchai Khunpluem, the mayor of Bangsaen, temporarily ordered closed many major roads, turning around hundreds of more visitors trying to visit the beach which is the closest major beach from Bangkok. He stated that this was done out of social distancing concerns as allowing more to visit would make it nearly impossible for those visiting to social distance properly.
Meanwhile, online social media was full of concerned comments from people who believed that the thousands flocking to the beaches could possibly spread the Covid-19 Coronavirus. The Pattaya News notes that Chonburi has not had a single case in 49 days and Pattaya has had no confirmed or recorded cases in 59 days. The country as a whole has had no cases in 9 days locally spread and borders remain closed to international traffic. Residents also pointed out that pictures showed many people in small to medium sized groups. The Pattaya News notes that many of them are likely family members.
The beaches had previously been closed for nearly two months due to concerns of the Covid-19 Coronavirus but with local spread seemingly at or near zero nationwide the beaches reopened this week, although with social distancing measures in place.
Bangsaen Officials said that they were enforcing the rules against large gatherings and alcohol, which was strictly prohibited, especially anyone potentially throwing a party based around booze.