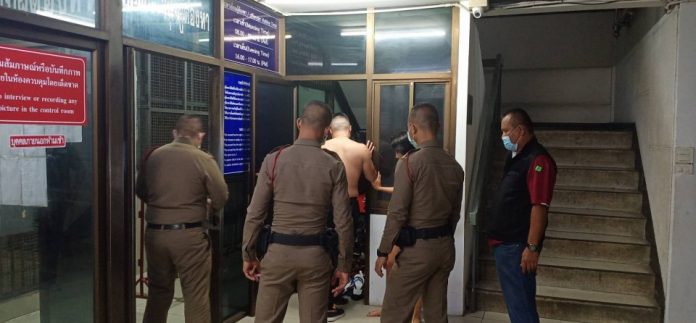 Pattaya-
An intoxicated Chinese man and a Thai woman have been arrested this morning after allegedly damaging a police car and being a public nuisance in Pattaya in front of the Pattaya Police Station.
At 1:30 AM this morning the Pattaya City Police was notified that a couple was having a domestic disturbance at their apartment. They were then taken to the Pattaya police station for further processing and investigation.
A video of the incident is here:
Police told The Pattaya News that the woman wanted to break up with her Chinese boyfriend. She asked police to bring her to his home to get all her possessions removed while the Chinese man was to go back to his home with his friends in a separate vehicle. This was to be arranged in front of the police station on Soi 9 in Pattaya.
Five minutes later, the Chinese man, who according to a police report was heavily intoxicated, jumped onto the police car containing his girlfriend and began attacking the vehicle.

His friends took over ten minutes to stop him, wrestling him to the ground. His girlfriend also, according to Pattaya Police, escalated the incident by involving herself despite being told not to do so.
At this stage Pattaya Police said the couple is being charged with being a public nuisance. Although the incident occurred during the Thai National Curfew the couple will not be charged with violating the curfew as they were taken from their apartment for investigation earlier.