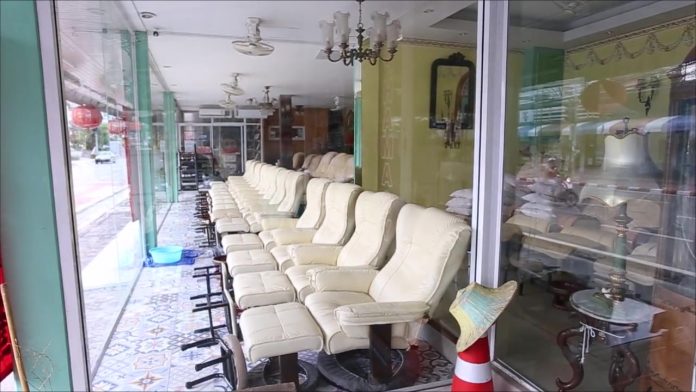 Thailand-
Tomorrow, Monday, June First, starts the third of four planned phases in Thailand's structured and cautious easing of rules and restrictions put in place to help prevent the potential spread of the Covid-19 Coronavirus.
  You can read more about the overall phase here.
Massage shops, after being closed since March 18, are finally able to re-open which will allow up to 200,000 people to return to work across the country, according to the Ministry of Public Health.
However, a very strict list of rules and guidelines must be followed and furthermore all massage venues must register with the Department of Health Service Support through a website and complete a self-assessment checklist for officials to check-up on weekly.
According to Dr. Akom Praditsuwan, deputy director-general of the Department of Health Service Support, shops that fail to comply will be closed temporarily.  A rough estimate of 15,000 shops are expected to be able to open during this phase. Some types of massage parlors, such as facial, herbal, steam, sauna, bath and body massage (soapies) are not able to open during this phase, the Ministry of Public Health stated late last week.
The list of guidelines released that will need to be adhered to are as follows:
-Only one entrance with the usage of the Thai Chana (Victory in the Thai language) check-in application and proper space between reception and customer.
-Temperature check and sanitizers must be provided at the entrance. All staff and customers must wear masks
-Massage chairs must be at least 1.5 meters apart from other chairs.
-Only one customer per massage room or booth, except for large rooms divided into multiple booths where a curtain or folding door must be used
-Encourage online or digital payment instead of cash
-For massage spas that offer robes or towels, they must be completely disinfected and washed after one usage of every customer.
-The air conditioning system, if it applies, must be clean, along with the filters and checked frequently.
-All massage chairs, booths, mats and other material must be completely disinfected and cleaned with proper cleaning fluids after every single customer.
-Limit "small-talk" between the massage therapist and the customer to help prevent the possibility of droplets of Covid-19 in the air.
-Verify that customer's who register on a written format give real names and phone numbers by checking identification if needed.
-Customers and staff must wash their hands at provided hand wash stations before and after a massage.