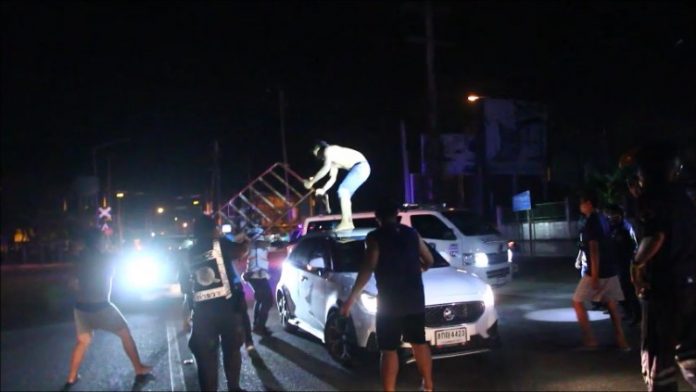 Pattaya-
A Thai man who was reportedly acting erratically and causing a public disturbance was arrested in Pattaya just before midnight yesterday, which is during the current National Thai Curfew hours.
Major Yongyut Wannuea of the Nongprue Police was notified of the incident at 11:30 PM in front of a Naklua housing estate.
Police, emergency responders and The Pattaya News arrived at the scene to find 32 year old Peerachai Hiransiri in a state of extreme duress.
He reportedly was holding a fork while running and shouting at other vehicles and people in the area. He was claiming that someone was going to hurt his wife and child, witnesses told The Pattaya News.
His wife and child were crying with fear nearby, The Pattaya News notes, and declined an interview to explain exactly what happened.
Mr. Hiransiri was not cooperative with police and it took multiple officers and good Samaritans, as well as rescue staff, to arrest him after he jumped onto the roof of a passing vehicle. The video of the incident, taken by our staff, can be viewed below:
A witness had stopped his vehicle just before Mr. Hiransiri jumped up on his car roof, pursued by officers and other bystanders. One person even utilized a road barricade to assist in getting Mr. Hiransiri off the vehicle.
Pattaya police have conducted alcohol and drugs tests on Peerachai, although the results of the test were not made public to the press. He was arrested and was facing charges of violating curfew, resisting arrest and causing a public disturbance. Additional charges may be forthcoming added law enforcement officers.
The curfew violation could carry up to two years in jail and up to a 100,000 baht fine as it falls under the emergency decree laws to control the Covid-19 Coronavirus.