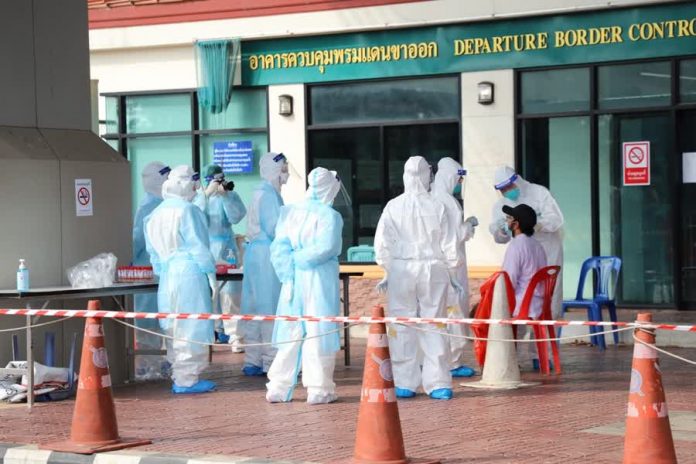 Bangkok-
The Thai Government and Prime Minister Prayut Chan-O-Cha has denied claims from the primary opposition party, Pheu Thai, that the extension of the emergency decree is political in any way.
According to Dr. Taweesin Visanuyothin of the Center for Covid-19 Situation Administration, the extension of the decree is critical to ensure that the rolling out of the final two scheduled phases of easing and loosening measures around closed businesses goes smoothly. The next two phases contain the riskiest businesses such as nightlife, entertainment and massage shops.
The Government spokeswoman Narumon Pinyosinwat told the press this afternoon that the extension was also critical to be able to manage the situation with Covid-19 if the unlocking of the riskiest businesses caused a potential rise in Coronavirus numbers.
Meanwhile, Anusorn Iamsa-ard, a spokesman for the Pheu Thai political party, stated that the extension of the decree was not needed as tough communicable disease laws remained on the books that included items like border control, ability to quarantine and lockdown areas and other measures to help fight diseases.
Critics to the Government in Pheu Thai also stated that the curfew was only hurting workers in multiple industries and was not needed at all.
Opposition groups to the government, including Pheu Thai, have stated repeatedly over the past two weeks that the immediate danger of the virus in terms of local spreading appears to be handled and that all businesses should be allowed to reopen immediately versus waiting nearly another month for certain businesses with proper safety standards and use of the contact tracing platform.
Dr. Taweesin disagrees with this standpoint, stating to the press during his daily conferences that a structured and proper phasing of opening was the only way to measure the impact of each industry and type of venue reopening as well as to ensure that the proper personnel was inspecting the regulations being followed.
Prior to the outbreak of the Covid19 Coronavirus, multiple protests had been breaking out against the Thai Government by opposition parties, who have also claimed that by extending the decree, which bans mass gatherings, this also stops public political opposition and protests even if social distancing takes place.
The Thai Government has denied this, stating that the extension of the emergency decree has nothing to do with politics and is purely to ensure proper rollout of the final phases of unlocking businesses and to be able to respond if the opening causes another outbreak.