Chonburi-
A 51 year old Thai man, reportedly depressed and upset after hearing that the Emergency Decree to control the Covid-19 Coronavirus will likely be extended, made the decision to jump from the third floor of his home this weekend.
He survived the jump.
The incident happened at 9:30 AM on Saturday morning at Soi Riyang, Village No. 5, in the Ban Suan Subdistrict in Chonburi.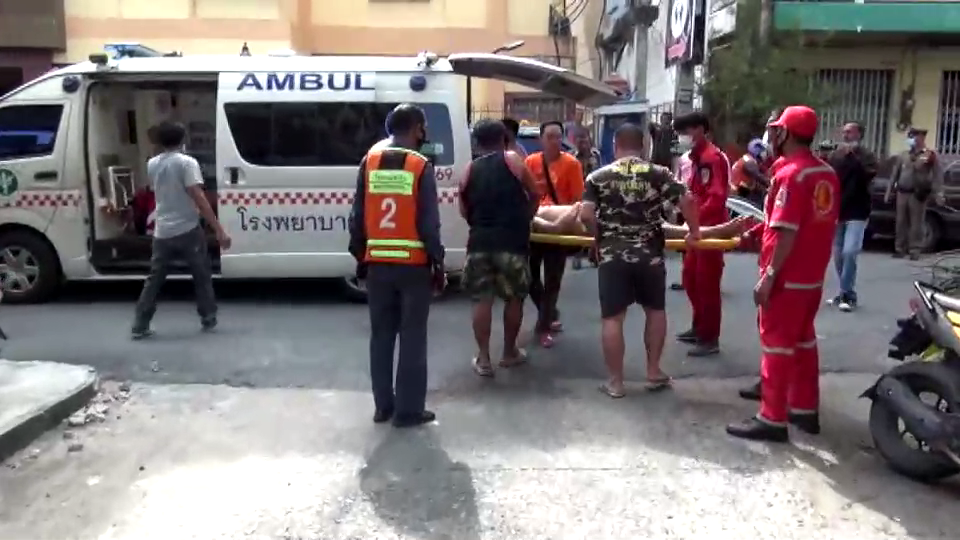 The 51 year old Thai man, whose name The Pattaya News has chosen to withhold, was found by rescue workers and Chonburi police lying on the ground in front of the three story home with broken bones and in serious pain, but alive. He was taken to the Chonburi Hospital and is expected to fully recover according to medical staff.
Mrs. Natthamamin Ngamsaeng, 44 years old, his wife, agreed to speak to the press about the incident.
Mrs. Natthamamin told Associated Press that her husband had been depressed for weeks as his restaurant had been severely affected financially by the Covid-19 Coronavirus crisis. Although the shop had recently re-opened, he felt that the new rules and regulations around social distancing were severely hurting his income and making it impossible to pay his debt and loans. He was hoping that rules would be loosened in the near future due to the number of cases in Thailand of Covid-19 but upon hearing the news that the Center for Covid-19 Situation Administration, or CCSA, had approved the Emergency Decree to continue and would be sending it on for a final expected approval to the Thai Cabinet Tuesday, he became overwhelmed with anxiety.
Shortly after, he jumped from the third floor of the home. Mrs. Natthamamin mentioned that the couple also have two children in school that were an additional stress due to loans made for their schooling.
The man remains in a hospital and will also be given psychiatric assistance according to Chonburi police.
Photo Credit: 77kaoded