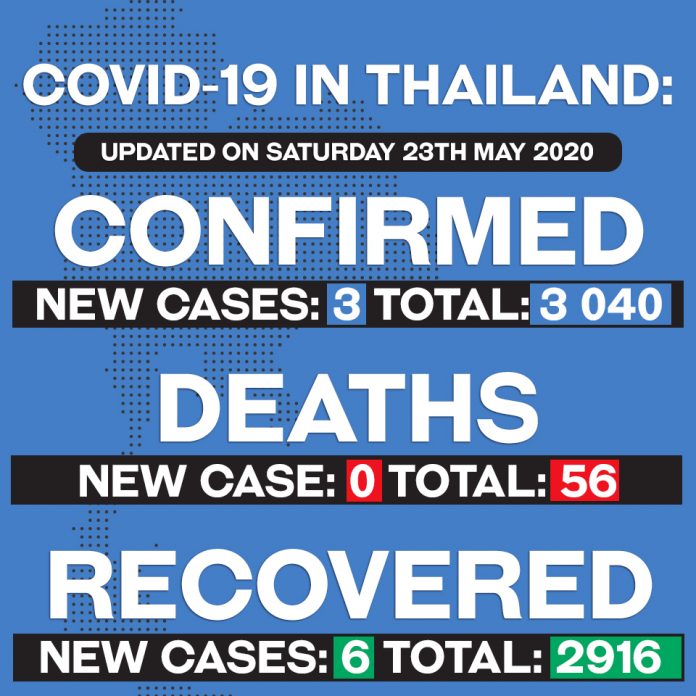 Bangkok-
Thailand announced three new confirmed cases of the Covid-19 Coronavirus this morning at a daily press conference in Bangkok.
The new cases consist of two imported cases, one from India and one from Egypt. This means they were found to have Covid-19 when in state mandatory quarantine after returning from overseas. All Thai Nationals returning from overseas are required to go directly into quarantine.
The final case is an Italian man from Phuket.
The Phuket man is a manager of an engineers team. He came back from Shanghai, China in March and stayed in Cherng Talay, Phuket.
He took a health check on May 20 as he wants to go back to China on a business Visa, which is allowed on a case by case basis.
He was confirmed positive on May 22. He is asymptomatic and his family members in Phuket have so far tested negative. Health officials are working on determining how he got the virus.
Thailand has had a total of 3,040 cases of the Covid-19 Coronavirus since the start of the outbreak. A total of 2,916 cases have recovered and there have been 56 deaths.
Chonburi, the province where Pattaya is, had zero cases today for the 29th day in a row. Pattaya is ten days ahead at 39 days without a single new confirmed recorded cases