Chiang Mai-
Thai press buzzed this morning with the story of a restaurant in Chiang Mai being raided yesterday evening by over a dozen police officers to discover that patrons were allegedly drinking alcohol in the shop, as well as sitting in a large group around a Thai BBQ, or "mookata", pot and socializing without socially distancing which is currently against the law in Thailand due to regulations and rules to help prevent the spread of the Covid-19 Coronavirus.
The rules are protected by an Emergency Decree which gives the government extraordinary powers and strict punishments for those who violate. Fines can range up to 100,000 baht and violators could face up to two years in prison. Those rules include bans on drinking alcohol in restaurants, gatherings for social purposes (with no limit on what number of people is a gathering) and not following social distancing rules.
All three of these were allegedly broken in Chiang Mai yesterday, even as the Center for Covid-19 Situation Administration, or CCSA, stated earlier this week that restaurant violations were rising nationwide, especially among smaller and independent restaurants.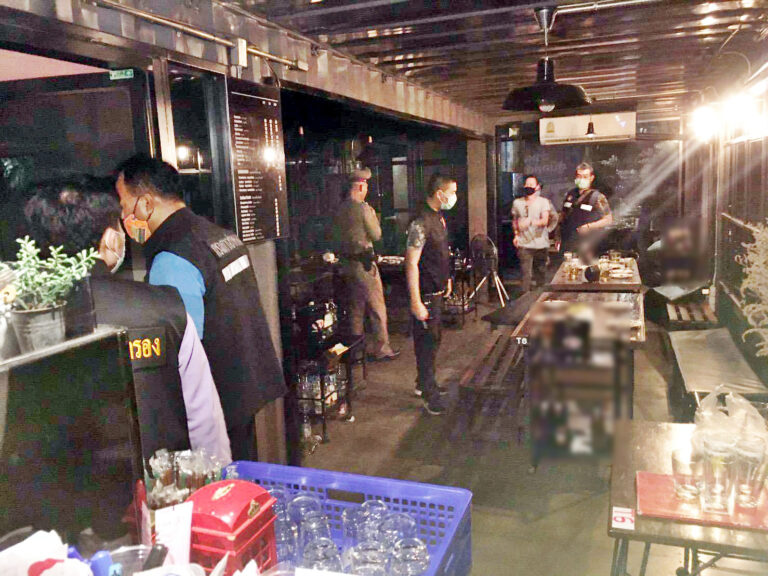 The incident in the photos occurred in the San Klang Subdistrict in Chiang Mai according to Chiang Mai Director of Police Colonel Vacharat Munwong.
The owner of the restaurant, as well as multiple patrons, were reportedly arrested and all face prosecution under the strict emergency decree rules.
Social media has been mixed in terms of reaction to the incident, with many claiming the rules separating family and friends and banning alcohol do not make sense but with others stating that agree or disagree the rules currently in place have been made very clear by the Thai Government multiple times and that those who violate them are well aware they are breaking them.
The CCSA, as previously stated, have said that the number of violations from restaurants violating social distancing rules and selling alcohol, as well as other various violations, have risen significantly over the past few weeks, raising concerns of people possibly spreading the Covid-19 Coronavirus. They also raise concerns, according to the CCSA, that if more businesses, such as bars and nightlife, are allowed to open that rules may not be followed.
Thailand reported a total of three new cases nationwide today, two of them imported, and zero new cases nationwide yesterday, leading some critics online to allege the current rules do not match the situation on the ground and are too harsh.
Thailand is likely set to continue the emergency decree, stating that despite the low numbers and criticism online that it is needed to properly control potentially re-opening high risk businesses like massage shops and nightlife.
Photos: Chiangmainews.co.th, article The Pattaya News