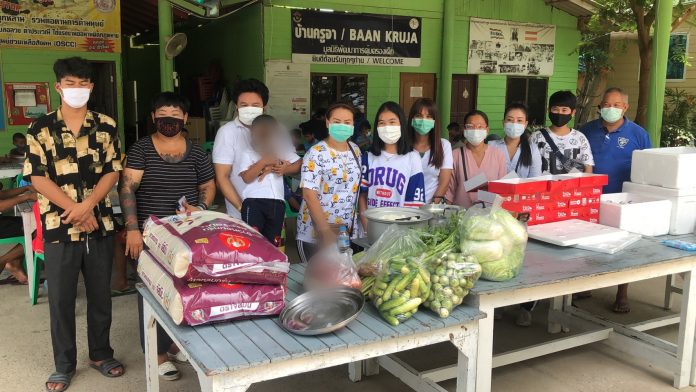 Banglamung-

A group of Hong Kong Citizens have given free food to more than 40 children at the Center for Human Trafficking and Abused Children in the Pattaya area today. (Baan Kruja).
Mr. Plisorn Noja, the director of Baan Kruja, welcomed the group at the center who brought all sorts of items, including donuts from Mister Donut that were a big hit with the children. Mr. Noja had put out a call earlier in the Covid-19 Coronavirus situation asking for more assistance due to a reduced number of donations and stated to the press that he and the children were very pleased to see so many step up and assist during this difficult time.
You can read more about that prior plea for assistance here:
https://thepattayanews.com/2020/04/25/baan-kruja-director-discusses-negative-impact-covid-19-has-had-on-them-and-reduced-support/
Miss Lina Chan, a representative of the group of Hong Kong Nationals, told The Pattaya News that she lives in Thailand. She and her friends donated money to buy food and goods for children as they cannot go to school yet due to government restrictions and are still mostly staying only on the Baan Kruja grounds.
They wanted to help the centre in this COVID-19 crisis.
The kids were very appreciative of the surprise meal and by all accounts had a great time, thanking the group of Hong Kong citizens for supporting them.