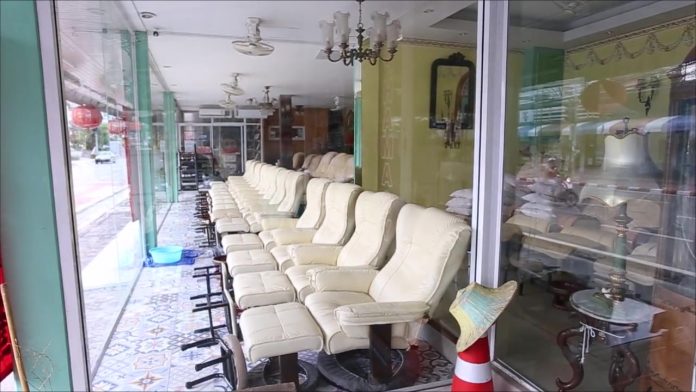 Pattaya-
As Pattaya City reaches thirty six days without a single new confirmed case of Covid-19 and two months since massage shops-along with most other businesses in the city and country-closed, many massage shop operators are petitioning city, regional and national officials and demanding they be allowed to re-open.
Mrs. Somchob Chimphimai, 41 years old, owner of the Rose Massage Pattaya, spoke with the associated Pattaya Press this week and said that she, like many other massage shop owners she knows locally, owns their shop and building and that her employees are family. Due to ownership, many massage shop owners don't need to worry about rent, however, with zero income many workers have been forced to go to local charity food lines that in some cases have stretched into the thousands just to eat.
Mrs. Somchob said that she has kept her staff fed, who chose not to return to their home provinces and have stayed in Pattaya. However, with the situation with Covid-19 greatly improved in Thailand, she and many other massage therapists are pleading with the government to let them re-open.
Indeed, earlier this week dozens of massage therapists protested, with social distancing, in Bangkok demanding that the government allow massage shops to re-open, especially when just six months ago Thai Massage was recognized worldwide and added to the United Nations cultural heritage list.
The Thai Public Health Ministry, which has said they support the re-opening of massage shops but that the final decision is up to the CCSA (Center for Covid19 Situation Administration) even designed guidelines to allow the shops to safely open.
The CCSA, meanwhile, have expressed concern due to the obvious close social distance in massages, even with the usage of sanitizer, gloves, masks, face shields and checking customer's temperature when they arrive, as well as ensuring proper cleaning of the shops. Some suggestions have been brought to allow only foot massages, which Thai Massage Associations state would be impossible to properly make a profit out of, as the majority of profitable massages are Thai Traditional, aroma therapy, and others.
Mrs. Somchob, when asked by the press about the lack of international tourists, said that a significant amount of her regular customers were expats who still lived in the Pattaya area and were waiting for her shop to re-open. She also said that a larger number of Thai's, especially young women, seek massages in Pattaya and that domestic Thai's had always been a part of her customer base. She simply wanted the option to legally open at this point and allow her staff to make an income.
The CCSA has said that if cases of Covid-19 remain low that more restrictions and rules will likely be eased around June 1st. It is unknown at this point what the third phase of loosening restrictions would bring and if massage shops, considered a high risk establishment, would be in the next phase. The CCSA has said those decisions would likely be made by the end of next week.