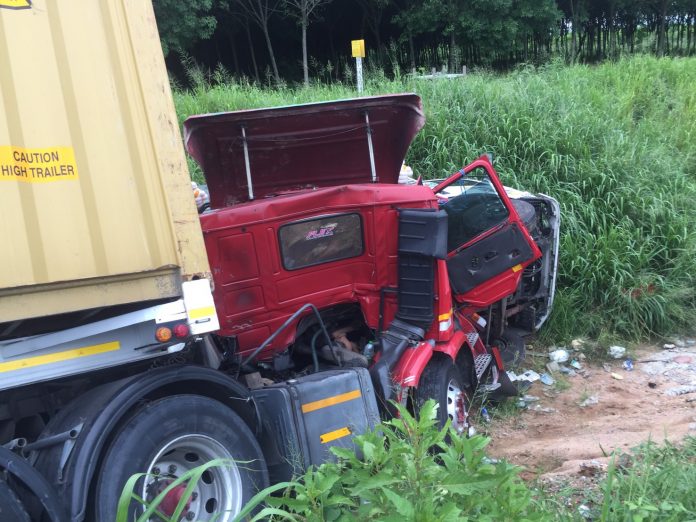 Banglamung-
A trailer truck driver who admitted to falling asleep at the wheel got stuck inside the cab after crashing into a smaller truck in the Pong sub-district today.
A video of the rescue of the driver can be found here:
Rescue workers were notified of the two vehicle accident at 1:00 PM on Road Number 36 in Baan Klong Yai today.
Rescue workers and The Pattaya News arrived at the scene to find a large trailer truck collided at the back of a smaller truck.
The trailer truck driver, 38 year old Mr. Teerawut Wongyoo was stuck inside the cab, but mostly uninjured other than being shaken up.
Rescue workers used a jaw of life to free him from the vehicle. He said he fell asleep at the wheel. He was taken to a local hospital for a routine check-up after the incident.
The smaller truck driver, 27 year old Worawaut Chuemee told The Pattaya News that he had stopped his truck on the side of the road to use the toilet. He was not in his vehicle when the accident occurred and was uninjured.
Banglamung police have not determined if legal charges will be applied in the incident at this time.